17 Days/17 Ways — Invite an educator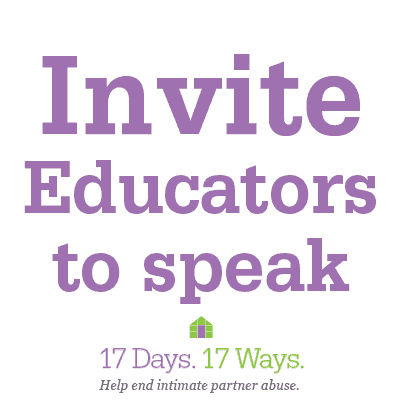 We believe intimate partner violence is a community issue, and the mission to end domestic violence in families and our community requires a community response. Please invite our staff to share information and resources with your book club, community group, workplace, and workplace.  How much time do you have?
10 minutes:  Request our brochures to distribute at your next meeting.
30 minutes: Let us share information and resources about our mission and ways your group can help survivors.
60 minutes: Invite our staff to talk about the dynamics of abuse, warning signs of violence, and how to respond.
90 minutes: Ask us to prepare a professional training to help your management team respond to domestic violence in the workplace
Planning an upcoming event or conference? Our Executive Director, Darlene Thomas, is an inspiring and powerful keynote speaker. Wishing your teenager's high school could do more to address bullying and dating violence? Many of our staff are certified facilitators of the Green Dot prevention strategy, a long-term curriculum that empowers bystanders and changes social norms.
Call us at 859.233.0657 or contact us from our website for more information.