17 Days/17 Ways — Throw a Party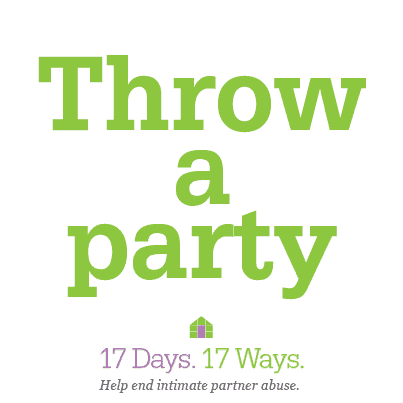 Throw a party for GreenHouse17.
It'll increase your happiness.
Are you feeling skeptical?
Will this really increase my own personal happiness?
Don't believe me? Watch this video and believe the science. Trust him. He's in a lab coat.
It'll be easy.
Just invite a few of your friends over to your house to watch a game, catch up on your favorite television show, or just share some food and conversation–and ask them to bring one item from our wish list. Our wish list is updated regularly on our website.
Right now, our shelter needs these items:
kids toys for all ages

twin-size "bed-in-bags"
alarm clocks

book lights
small bedside lamps
winter hats, gloves, and scarves

pillows
towels

dish soap
laundry detergent
Our farm program could really use some garden gloves, 
mason jars with lids,
 canning equipment, 
landscape fabric
, and a post puller.
Don't have the space or time to host a party?
Then, come to our party! This November we're presenting Lunafest, a film festival by, for, and about women. It's a great night out with friends, family, and co-workers. Get all the details and purchase your tickets here.
This post is part of our 17 Days/17 Ways campaign during Domestic Violence Awareness Month.