17 Days/17 Ways — Talk to Young Adults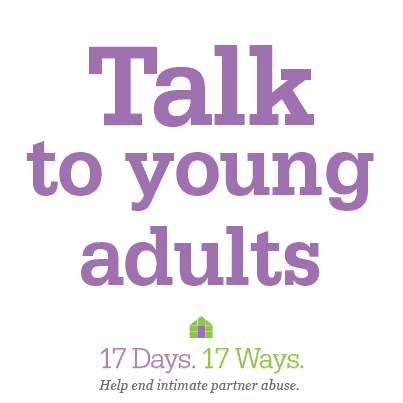 The Kentucky Domestic Violence Association reports that "40% of teenage girls age 14-17 report knowing someone their age who has been hit or beaten by a boyfriend."
Intimate partner violence has infiltrated our schools and has become a threat for teenagers.
If you are a parent, mentor, teacher, or youth counselor, please talk to the young adults in your life about healthy relationships and the signs of dating violence. We know it can be a difficult topic to bring up. Loveisrespect, a partnership between Break the Cycle and the National Dating Abuse Helpline, offers all kinds of great resources:
If you don't have direct contact with young adults there are ways to get involved through community organizations such as Big Brother Big Sister or Green Dot,  a program that goes into schools and tells students about intimate partner violence and how to advocate for change and prevention.
In the words of this PSA, it's about respect.
This post is part of our 17 Days/17 Ways campaign during Domestic Violence Awareness Month.