17 Days/17 Ways — Donate to GreenHouse17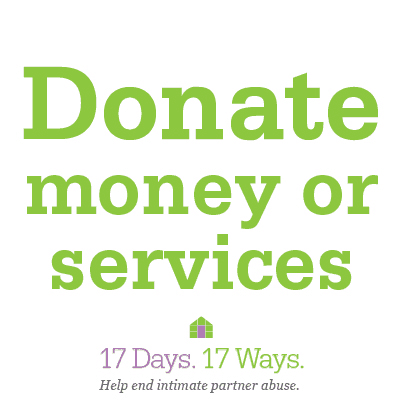 We can always use volunteers to help with services and outreach, but there are ways to support the mission to end intimate partner abuse in our community even if you're not in the position to devote time.
One way is to make a financial donation directly to our organization, which is always appreciated. Although we are fortunate to receive generous federal and state funding, this year we need to raise at least 19% of our $1.7 million annual budget through special events and private donations.
Donations can be mailed to PO Box 55190; Lexington, KY 40555. We also offer secure online giving from our website. (You'll notice this webpage still looks like our old website. We are working with our online donation processing partner to re-brand it soon. In the meantime, your donation will still make it to us safe and sound.)
If you're interested in attending an event to support the mission, please purchase tickets to attend Lunafest, an annual fundraising event that features short films by, for, and about women. This year's event is on Thursday, November 7 at The Kentucky Theater. We're also hosting a special encore screening with our friends at Transylvania University on Sunday, November 10. Learn more about this annual event here.
Another great way to give to donate clothing and furniture to the Goodwill or Habitat for Humanity's ReStore location near you. Just drop off your donations and tell them it's us. They will give us vouchers in the value of your donation for our families to shop for what they need. These vouchers offer survivors the opportunity to find clothing for themselves and their children or to buy furniture for their new apartments when they are able to transition out of the shelter.