17 Days/17 Ways — Write a Letter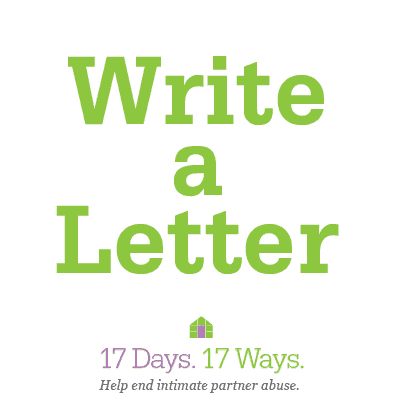 Domestic violence permeates all communities and neighborhoods. Many turn a blind eye to domestic violence because they think it is someone's personal matter that needs to be resolved within their home.
Many perceive that to interfere would be prying into a private situation, but it is everyone's responsibility to be aware of domestic violence and to do what they can to make a difference. Bringing awareness to domestic violence saves the lives of women who are in need of shelter or someone to help them make a safety plan.
Writing a letter to the editor of your local paper is a great way to start a conversation and build awareness.
Kentuckians for the Commonwealth has prepared this useful resource to help you write your letter and distribute it to publications around the state. They recommend keeping the letter short (less than 250 words), supporting your letter with key facts (consider statistics from the 2010 CDC National Intimate Partner and Sexual Violence Survey); describing why you care about the issue; and calling the community to action. Several ways to help have been discussed in our 17 Days/17 Ways feature.
Let us know if your letter is published. We'd like to feature it here and on our social media pages!
This post is part of our 17 Days/17 Ways campaign during Domestic Violence Awareness Month.