17 Days/17 Ways – Speak Out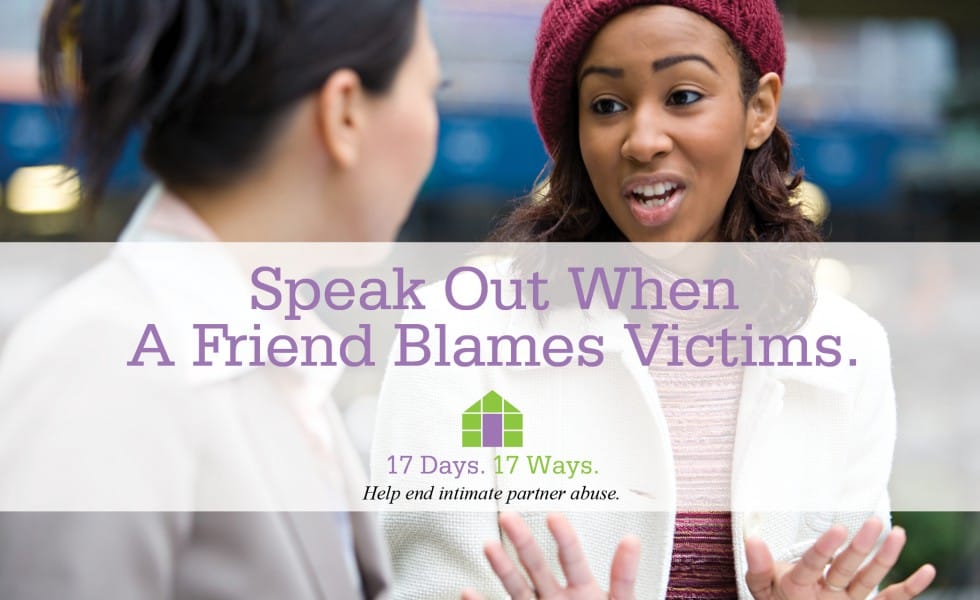 "It takes two to tango."
"They're having a lovers' quarrel."
"What did she do to provoke it?"
We've probably all heard friends and family say things like this before. Recent discussions related to the #WhyIStayed and #WhyILeft hashtags address the assumptions of such statements.
These sentiments blame the victim.
Speak out when you hear someone using victim-blaming language. Chances are they don't know they're doing it. You can say something like "Did you know the words we choose  sometimes blame victims?"  Then let explain how.
Talking about the power and control associated with intimate abuse is always a good place to start. Your discussion might address how the physical, emotional, and financial violence make it very difficult for someone to leave. Very real threats of escalated violence and harm inform the decisions victims make. Responding to well-meaning questions like "Why do they stay?" with better questions like "I wonder what barriers did they faced to leaving?" can also be effective.
w
Open a dialogue. Help someone understand how language affects perspective, and how the wrong language can be dangerous.
(Video courtesy of CNN from Youtube.)
This post is part of this year's 17 Days/17 Ways Campaign to end intimate partner abuse.