17 Days/17 Ways – Tell Your Representative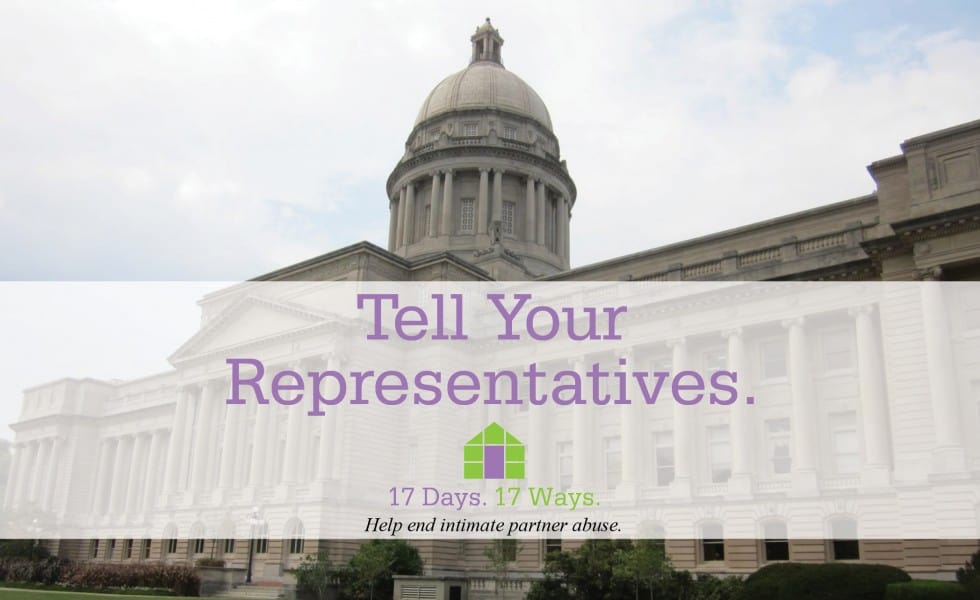 Kentucky stands out on this map, and it's not for good reason. Every state in red or pink offers some some kind of civil protection for victims of dating violence who have not lived with or had a child with the abuser. Except Kentucky. 
Some mistakenly believe dating violence protections are only needed by young adults. Although young dating partners surely deserve protections, changing attitudes about marriage and parenthood make this a cause for older adults too. An article published on Mic.com reports "the median age for a first marriage is higher than it's ever been and compared to past generations, almost half of millennials seem disinclined to tie the knot before they are well into their 30s."
Advocates and legislators have tried for years to address Kentucky's lack of protections for dating partners. Darlene Thomas, our Executive Director,  talked about the need and efforts toward the law in this article. A bill unanimously cleared the House with the help of Judiciary Chairman John Tilley last year, but it "hit a snag" a snag and faced an "uphill battle" in the Senate.
The Kentucky General Assembly will convene again in the new year. And advocates will again be working for dating violence protections.
Now's the time to prepare. If you aren't sure of the names of your state legislators, look them up the Kentucky Legislative Research Center website.
Many legislators have switched to online communication forms instead of traditional email. You'll find links to email addresses and online communication forms for Kentucky legislators here. Mailing addresses and office phone numbers are available at this link. You can also call the Legislative Message Line at 1-800-372-7181 to leave a voice mail for state officials. This line is open 8  a.m. to 4:30 p.m. Monday through Friday for most of the year. During General Assembly, the hours are longer.
If you're not registered to vote, complete the form today!
This post is part of this year's 17 Days/17 Ways Campaign to end intimate partner abuse.