17 Days/17 Ways – Volunteer Your Time and Talents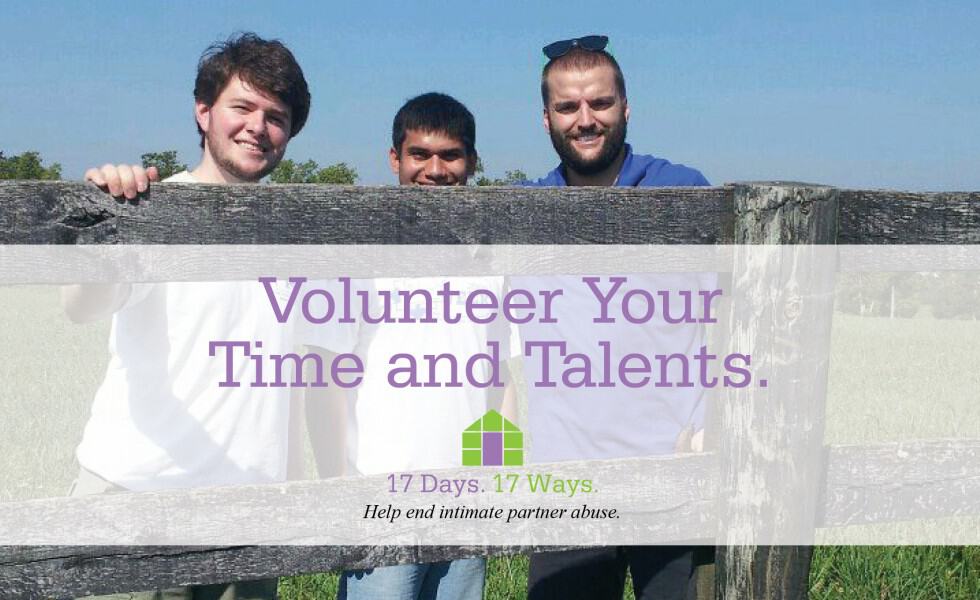 By Danny Schlachter
Student Blogger
Note: This post is written by a freshman student at the University of Kentucky as part of a service learning project.
One in three Kentucky women will experience intimate partner abuse in her lifetime. Think about that—one in every three! Based on that, odds are, you know someone who has been abused by an intimate partner. Survivors need all the support they can get as they are healing from abuse.
Volunteering can provide survivors of intimate partner abuse with an emotional boost, and it also might help you feel a little better, too. A  report published by Harvard Health Publications found that an adult who volunteers for at least an hour a month is happier than an adult who doesn't volunteer.
GreenHouse17 offers many ways to give back. Donation of your time and talent to provide hands-on help is always appreciated. This list offers some ideas for individual volunteers:
Data entry
Donation delivery and pickup
Representing GreenHouse17 at fairs and community events
Building maintenance/winterization
Workshops related to workplace skills and business enterprise
And there's always a long list of projects that are perfect for families and groups of friends, co-workers, or community organizations:
Fence painting and repairs
Seasonal help on the farm
Collecting and delivering holiday gifts
Sorting and organizing nonperishable groceries
Minor repairs on the property
Landscaping/yard work​
If you or your group is interested in volunteering at GreenHouse17,  complete the volunteer application available at this link and submit to Ms. Diane Fleet, Assistant Director. Her contact information is included on the form.
This post is part of this year's 17 Days/17 Ways Campaign to end intimate partner abuse.