17 Days/17 Ways – Follow People and Organizations Doing Good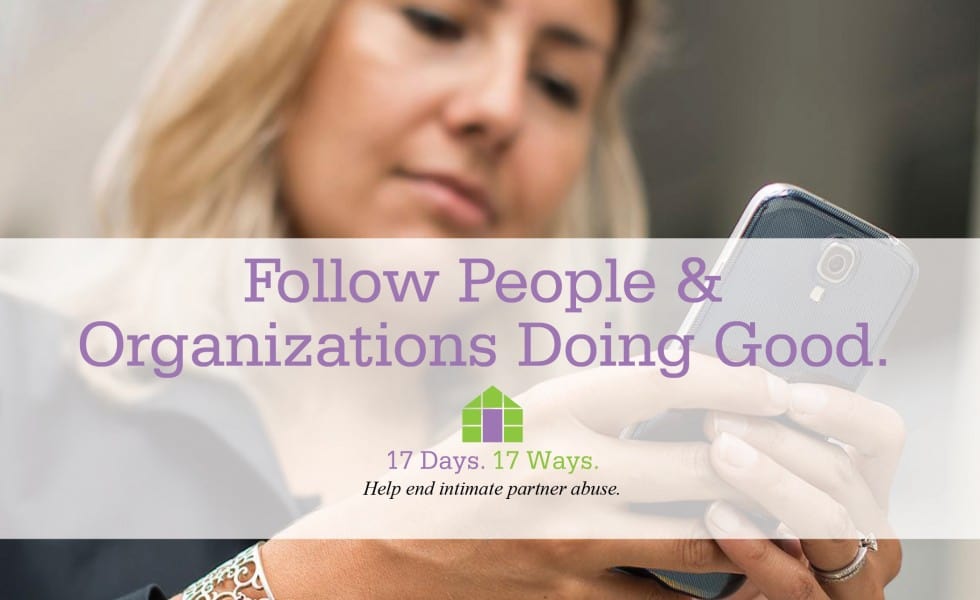 Staying up-to-date on issues and opportunities related to our mission is one way to help end intimate partner abuse. We hope you already like us on Facebook, follow us on Twitter, and re-pin us on Pinterest.
Our staff shares some really interesting information on our social media pages to advocate for survivors, honor the healing journey, and connect with supporters. You can check out the central Kentucky organizations and businesses that we like on Facebook at this link. We also maintain lists of Lexington and Kentucky nonprofit organizations on Twitter.
And we've pulled together this list of national and international organizations on social media for you to connect with online. Let's see what we can learn from these thought-leaders to make our communities safer and healthier—and share some of the innovative solutions happening in our region.
Mary Byron Project
Facebook/Twitter
The Mary Byron Project is a not-for-profit organization dedicated to fostering innovations and solutions to end domestic violence.
NOMORE.org
Facebook/Twitter
NO MORE is a powerful new symbol that's bringing together all people who want to end domestic violence and sexual assault.
Say NO – UNiTE to End Violence against Women
Facebook/Twitter
Say NO – UNiTE to End Violence against Women records what individuals, organizations and governments worldwide are doing to end violence against women. Managed by @UN_Women.
National Network to End Intimate Partner Violence
Facebook/Twitter
A leading national voice for domestic violence survivors and their allies.
National Domestic Violence Hotline
Facebook/Twitter
The National Domestic Violence Hotline provides information, resources & support to anyone affected by domestic violence. Free, confidential, 24/7/365.
National Coalition Against Domestic Violence
Facebook/Twitter
Organizing for collective power by advancing transformative work, thinking and leadership of communities and individuals working to end violence
Mentors in Violence Prevention – MVP
Facebook/Twitter
Motivates men and women to play a central role in solving problems that historically have been considered "women's issues."

Break the Cycle
Facebook/Twitter
BREAK THE CYCLE is the leading national voice in the education and prevention of dating violence among young people.
Love is Respect
Facebook/Twitter
A project of the National Domestic Violence Hotline & Break the Cycle, loveisrespect promotes healthy dating relationships among teens & young adults.
Futures without Violence @WithoutViolence
Facebook/Twitter
Working to prevent and end violence against women, children, and families throughout the world.
What organizations and businesses committed to ending intimate partner violence did we miss on our lists? Leave a comment to let us know.
This post is part of this year's 17 Days/17 Ways Campaign to end intimate partner abuse.