17 Days/17 Ways – Talk to Young People About Healthy Relationships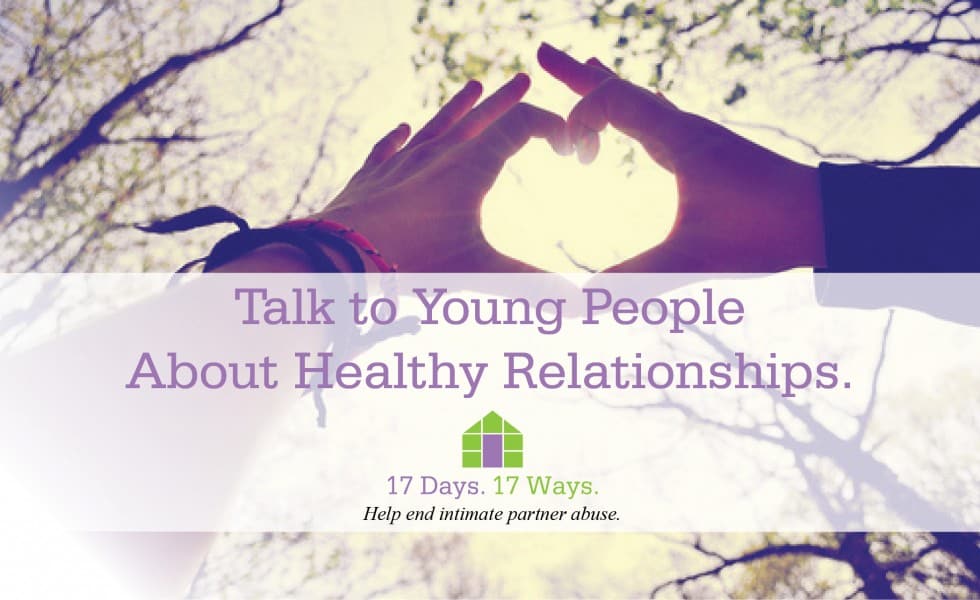 By Jamison
Student Blogger
Note: This post is written by a freshman at the University of Kentucky with help from GreenHouse17 staff as part of a service learning project.
Relationships can be very difficult for young people, especially if they take a turn for the worse. When a healthy dating relationship ends, you'll probably feel sad and confused, but after awhile you'll be ready to move on, like in this song.
Ending an unhealthy relationship is more difficult. Loveisrespect.org, a project of the National Domestic Violence Hotline and Break the Cycle, reports as many as one in three teens is physically, emotionally, or sexually abused a dating partner.
Emotional violence can be difficult to spot, but it can be just as destructive as physical abuse.
Do your opinions matter to your dating partner?
Is your partner mistrustful and passive-aggressive?
Does s/he check your phone without permission?
Do you fear how your boyfriend or girlfriend will react if you talk to certain people?
Emotional abuse often starts slow and picks up momentum as the relationship continues, and it sometimes leads to physical abuse. You might see signs of aggression before physical abuse begins. Look for clenched fists and shouting during tense conversations. A friend might wear sunglasses or  long-sleeved clothing to hide the signs of physical abuse. Once someone heads down that path of physical violence, there is no easy return. No matter how sweet and loving or apologetic s/he is after the violence, chances are it will happen again.
Find a safe way to end your relationship is emotional or physical abuse is happening. Ask for help from adults you trust because an unhealthy relationship can become even more dangerous during a break up. If your friend is being abusive, tell them you suspect it's happening and that it's not OK to behave that way. If you're worried about a friend who is being emotionally or physically abused, let them know you care and want to help them end the relationship safely.
Everyone deserves to be in a safe and healthy relationship. A healthy relationship is one that works. Both you and your partner are happy, and you can talk to each other about anything. You have no need to mistrust your partner and don't feel confused by what each statement means.
Have you ever wondered if your dating relationship is healthy? Take this short quiz at loveisrespect.org to find out.
This post is part of this year's 17 Days/17 Ways Campaign to end intimate partner abuse.