17 Days/17 Ways – Speak Their Names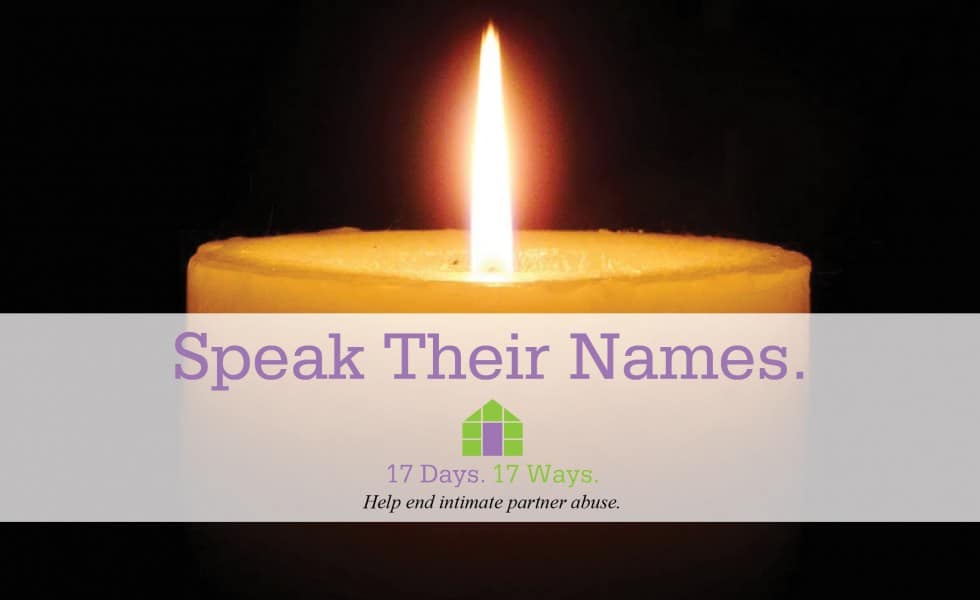 Today's way to help is a more difficult one. Data collected by the Department of Justice Bureau of Justice Statistics finds an average of three women are murdered by an intimate partner every day in the United States (link to analysis of the data). These murders represent more than a third of all female homicides.
Last year the Kentucky Coalition Against Domestic Violence  compiled a list of 25 Kentucky women who were murdered by an intimate partner between October 1, 2011 and September 30, 2012. We must remember their lives. Consider how many times they tried to leave, and imagine the barriers to safety and healing they might have faced. Think about the friends, family and children who are still mourning.
Speak their names, and commit to help end intimate partner abuse in families and our community in their memory.
Sandy Allen, 24, Oldham County
Tasha Campbell, 26, Kenton County
Karyn Michelle Carr, 38, Jefferson County
Katie Coomer, 28, Woodford County
Amy Dennison, 36, Muhlenberg County
Sherry Dillon, 52, Pike County
Mary Gilmore-Hislope, 44, Pulaski County
Sade Goldsmith, 28, Jefferson County
Lori Hall-Boswell, 35, Powell County
Erika L Hutchason, 43, Webster County
Leigh-Ann Kinder-Parsons, 35, Boone County
Leslie "Cricket" Lanham, 43, Greenup County*
Barbara Martin, 64, Powell County
Kathleen McGee, 30, Christian County
Tamlyn Nguyen, 36, Daviess County*
Jessica T Rawls, 27, Christian County
Autumn Rollings, 24, Christian County
Robyn Slone, 37, Boyd County
Valeria K Stevens, 43, Rowan County
Modena Sutton, 50, Anderson County
Danielle Thomas, 27, Boyle County
Angela Thurman Ervin, 34, Monroe County*
April Turner, 35, Gallatin County
Theresa Utley, 51, Gallatin County
Barbara Walker, 51, Larue County
*The deaths of these women occurred before September 30, 2011 but the cases were pending when the list was published. Since then someone has been charged in each case.
This post is part of this year's 17 Days/17 Ways Campaign to end intimate partner abuse.