17 Days/17 Ways – Work with your HR Department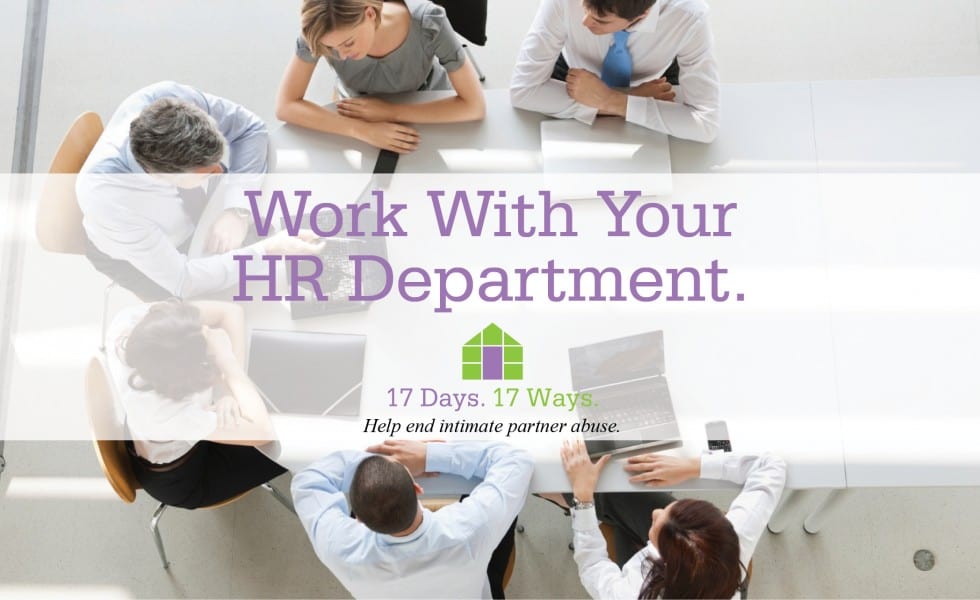 The effects of intimate partner abuse often extend to the workplace. Consider real stories from the Society of Human Resource Management (SHRM) website:
Shirley was shot 13 times by her ex-husband on the way to work
Delia and her co-worker were shot to death by Delia's estranged husband.
John had just arrived at work when a woman he had been dating shot him multiple times.
Yet the Family Violence Prevention Funds estimates that over 70% of U.S. workplaces have no formal program or policy that addresses workplace violence. Information prepared by the National Council Against Domestic Violence reports only 4% of all workplaces train employees on domestic violence and its impact on the workplace.
We can all be advocates at the workplace to help end intimate partner abuse.
Asking your HR staff if the company has a policy to address domestic violence in the workplace is a good place to start. Urge your employer to establish employee assistance programs for survivors of intimate partner abuse. When choosing topics for professional development, consider professional training events that build awareness and understanding about intimate partner violence.
If you supervise a team in your role at the workplace, SHRM suggests you should look for a pattern of these behaviors to identify staff who may be struggling to escape abuse:
Unexplained absenteeism or tardiness
Requests for time off to attend court appearances
Unusual number of e-mails, texts, phone calls, etc. from a current or former partner
Abrupt change of address
Another way to make a real difference is to suggest your company adopt the cause. We always welcome and appreciate the help of workplace volunteer groups. In the warmer weather, your team can help out on the farm and around the property. We have a very long farm fence just waiting for the perfect workplace volunteer group to paint! In the winter months, your workplace team could commit to coordinating collections of groceries at a local Kroger store during the annual Shop & Share event or assisting with winterization projects at our shelter facility.
We welcome talking with you more about work group volunteer projects. Reach out to us on social media or send us a note. We can brainstorm ideas to find the perfect project fit for your team.
This post is part of this year's 17 Days/17 Ways Campaign to end intimate partner abuse.