17 Days/17 Ways – Believe Your Voice Matters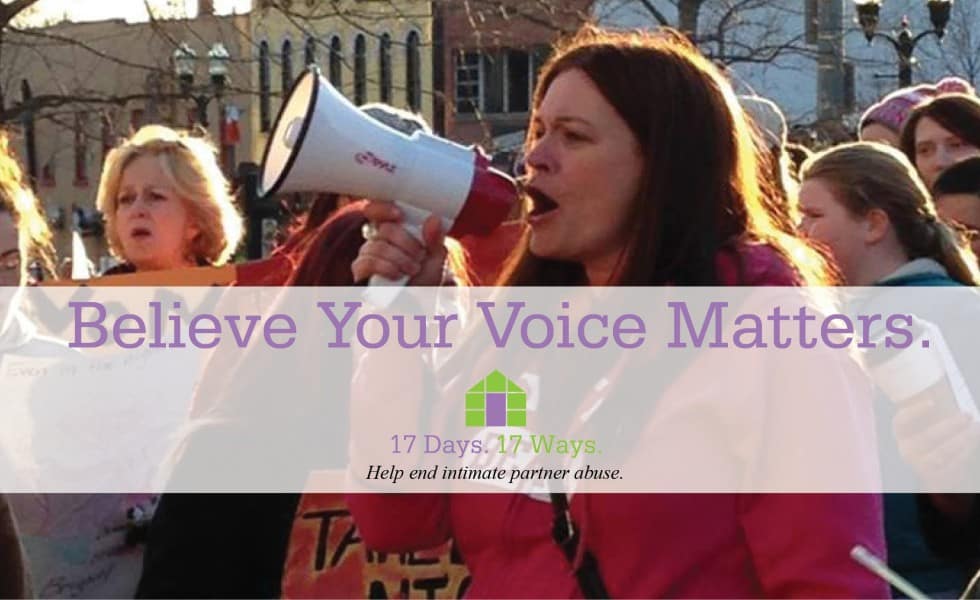 By Curtis Bethel
Student Blogger
Note: The following post was written by a freshman at the University of Kentucky with help from our staff as part of a service learning project.
Everyone knows about high-profile intimate partner violence, like when Chris Brown hit Rihanna or the recent Ray Rice video showing the football player striking his fiancé, but the stories of most survivors never get told.  Intimate partner abuse doesn't just happen in celebrity lives. It happens in every neighborhood, many families, and most schools. Even though you're not famous, your voice can make a difference.
Imagine a scene…
A family puts on a facade. You may have spotted them out in the crowd of people at the fair, or sitting in the front row at your church. You recognize the family as the perfect family with no problems, almost too perfect at times. Little did you know, they head home each day to violence. They fear for their well-being and are afraid to tell anyone. As a result, they live their days in the shadow of violence.
Now imagine a new world for this family. Imagine a world where victims, survivors, and bystanders believe their voice matters and will be heard. Imagine a world where we all…
Change our profile pics on social media during Domestic Violence Awareness Month.
Have a safe plan of action if we see or hear intimate partner abuse happening.
Speak out when someone is using abusive or controlling language.
Reach out to someone who might be experiencing intimate partner abuse.
Make connections between animal and human abuse.
S​peak the names of lives lost to intimate partner homicide.
Volunteer our time and talents to help organizations helping survivors.
Read a book, listen to a song, or watch a movie that addresses the topic.
Follow other organizations working doing good for survivors.
Talk to young adults about healthy relationships and dating violence.
Plan a donation drive for survivors and their children living in emergency shelter during the holidays.
Tell elected officials that we support protections for survivors, and so should they.
Honestly ask ourselves if our behavior is violence-free.
Write a letter to or local newspaper describing the problem of domestic violence.
Adopt the cause at our workplace, and ask our company to address domestic violence in the workplace.
Your voice DOES matter.  You can make a difference. ​Your ideas, words, and actions help end intimate partner abuse.
This post is part of this year's 17 Days/17 Ways Campaign to end intimate partner abuse.