Day 12: Speak Their Names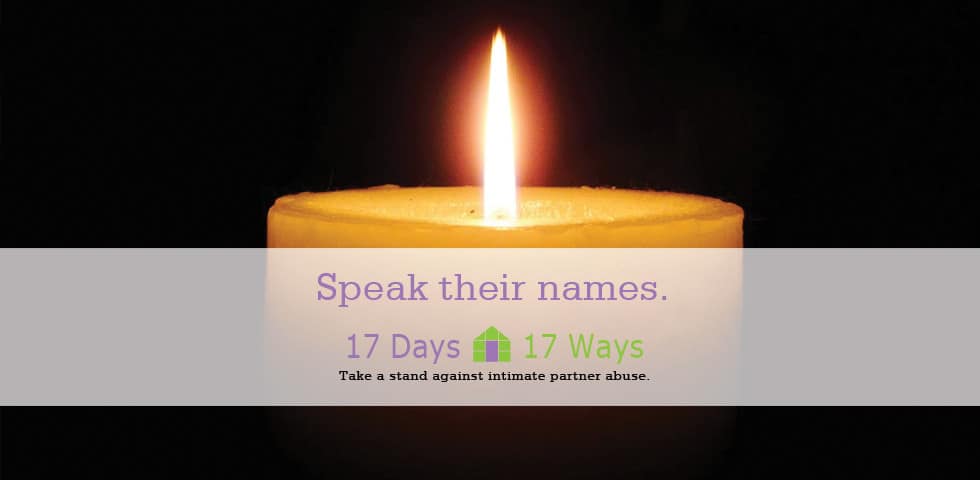 On average, three women are killed by an intimate partner every day in our nation. Each year the Kentucky Coalition Against Domestic Violence (KCADV) compiles a list of Kentucky victims who were murdered by their intimate partner.
This year 21 names were added to the list.
Each of these victims was someone's daughter, mother, friend or colleague. We honor their memory by providing safety and healing services for survivors, and we commit to ending intimate partner abuse in their honor.
Maybe you just read these names quietly to yourself today. Maybe you speak them from a podium during a meeting or faith service this week. We just ask that you speak their names.
Cynthia Beasley, 60, Jefferson County
Elizabeth Blevins, 85, Fayette County
Ellen Cain, 42, Meade County
Brystal Chambers, 21, Henderson County
Nancy Coomer, 84, Muhlenberg County
Erin Cully, 26, Kenton County
Nicole Hiles, 35, Grant County
Christina Joslin, 43, Jefferson County
Lorine LaBombard, 37, Barren County
Goldia Massey, 50, Fayette County
Karyn Meeks, 39, Taylor County
Porcia Mills, 24, Jefferson County
Amy Ndao, 38, Jefferson County
Tracy Owen, 19, Logan County
Crystal Parker, 25, Jefferson County
Shannon Puryear, 37, Jefferson County
Lisa Roach, 38, Christian County
Shalayna Skaggs, 32, Larue County
Kim Thomas, 34, Graves County
Melissa Vaughn Green, 33, Logan County
Monica Wells, 34, Pulaski County
This list has been compiled from public media sources and represent victims killed by intimate partners and/or cases charged against an intimate partner from October 1, 2013 to December 31, 2014. Learn more about KCADV's Speak My Name project here.
This post is part of our 17 Days/17 Ways campaign to take a stand against intimate partner abuse.