October is Domestic Violence Awareness Month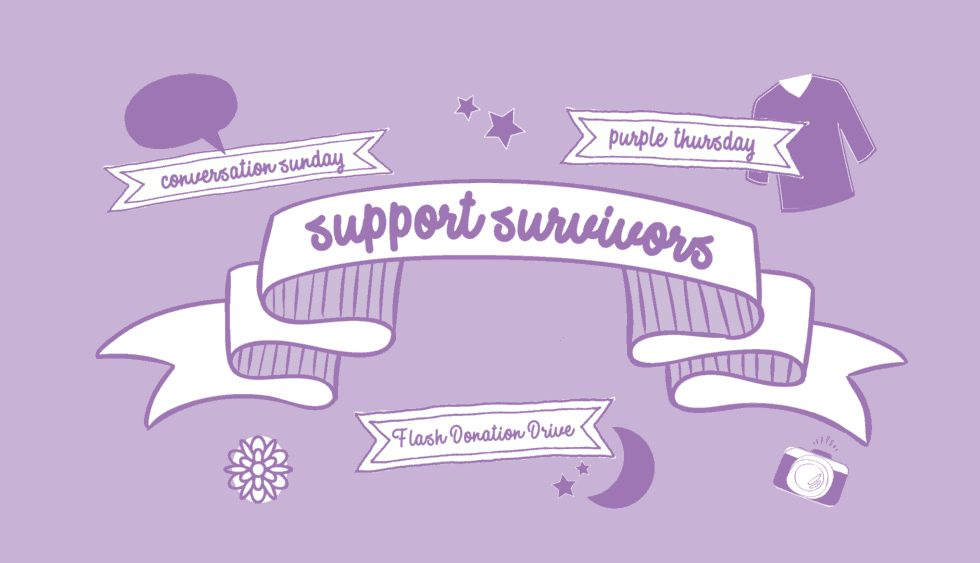 Join us in events and happenings around central Kentucky to raise awareness about services and show your support for survivors. Download this printable calendar to post at your workplace, dorm, place of worship, and other locations.
All Month 
Engage and Support 
Attend community events and participate in projects that support survivors. Follow domestic violence agencies on social media. Share stats and and resources with your friends and family to raise awareness.#DVAM #SupportSurvivors #BelieveSurvivors #TalkAboutDV #endDV #NoMore #NoMás #TogetherWeCan
All Month
Paint Lex Purple 
Visit the Lexington Domestic Violence Prevention Board website for ways to Paint Lex Purple! Look for purple banners and displays downtown, and share images of them on social media. Get more info here.
All Month
Sponsor a Ribbon in Jessamine County 
Purchase a purple ribbon from Rachel's Rose Garden to help Friends of The Family Center in Wilmore raise awareness and support survivors. Funds raised will support the Jessamine County Domestic Violence Support group in Jessamine County. Get more info here.

Sunday, October 1
Frame your pics and videos
Start the month by adding a Facebook frame to your profile pic, images, and videos to support survivors. Search endDV from the frame options to discover special Domestic Violence Awareness Month designs available September 30.
Saturday, October 7
Autumn U-Pick Day on the Farm
Drive out to the farm at GreenHouse17 for some flower pickin' fun on Sat, Oct 7 from 10 -1. $10 a bucket. Rain or shine. Join the Facebook event for more information or send us a note to request driving directions.
Sunday, October 15
Conversation Sunday
A day to start conversations about domestic violence. Talk about it during your faith service. Talk about it before the game. Talk about it during a walk with your neighbor.  Get more info here.
Tuesday, October 17
National Twitter Chat
Participate in the Twitter Chat hosted by National Network to End Domestic Violence from 2 to 3 PM. Follow #Support4Survivors and share your thoughts on removing barriers, centering marginalized communities, and building resilience.
Thursday, October 19
Purple Thursday
Put on purple to show support for survivors and raise awareness about domestic violence! Purple Thursday is an easy way for work and community groups to get involved. Get more info here.
Thursday, October 24
Domestic Violence Seminar 
An informative seminar from 1 to 3 pm hosted by The Family Center at 334 E Main St, Wilmore. Learn about types of violence, the cycle of violence, professional services available in Jessamine County and surrounding areas. Get more info here.
Friday, October 27 – Sunday, October 29
Flash Donation Drive on Amazon
Help us end the month strong! Shop the GreenHouse17 wish list on Amazon to donate much-needed bedding supplies for adults and children surviving domestic violence. And ship your donation directly to our emergency shelter. Get more info here.