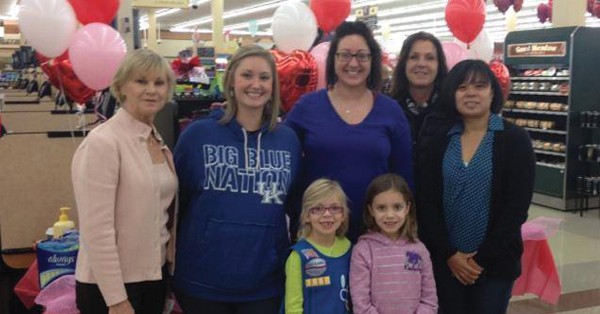 Blog
Call for Amazing Volunteer Groups to help with this year's Shop & Share event
Featured image: Photo of volunteers with First Lady Jane Beshear during last year's Shop & Share.
This year's Shop & Share — an annual statewide collection of nonperishable goods for domestic violence shelters — will happen on Saturday, March 28 from 9 a.m. to 5 p.m.
We are so lucky to receive each and every item donated at the Kroger locations in our 17-county service area in central Kentucky. And we need the help of some amazing volunteer groups to pull off the big event!
Is your volunteer school, faith, or professional group interested in "adopting" a store on the day of Shop & Share? Your group's support during this one-day event will help us collect enough nonperishable and personal care supplies to meet our shelter's need this calendar year. It's a rewarding experience full of inspiring generosity.
Here's what "adopting" a store during the event will include:
To coordinate scheduling of at least two adult volunteers at your adopted store location during every hour of the event. We recommend two-hour shifts, so this will probably require about 8-10 people.
To distribute shopping lists to customers as they enter the store, accept donations of goods as customers leave the store, and share information about our organization along the way.
To load up the donations at the end of the day and deliver them to our shelter location directly following the conclusion of the event. This will require a large vehicle (probably a SUV or a truck). We'll have all kinds of volunteers on hand at the shelter to help you unload the donations.
If your group would like to adopt a store during Shop & Share or learn more about helping out on that day, please complete the short form below this post. We'll get back to you really soon to share more information and work out the details.
Shop & Share is a joint initiative of the First Lady's Office, the Kentucky Coalition Against Domestic Violence, Kroger, Food City, the Kentucky Commission on Women, the General Federation of Women's Clubs, the Girl Scouts of Kentuckiana, the Girls Scouts of Wilderness Road Council, and the Kentucky Drug Court.

Oops! We could not locate your form.