Community Partner Spotlight: Centered Lexington
As Lexington's holistic healing center, Centered has taken a holistic approach to supporting GreenHouse17. From donating 5% of sales in April to promoting our Flower CSA to selling our Handmade by Survivors products to becoming a Giving Circle for this year's Lunafest, Centered has gone above and beyond supporting survivors of intimate partner abuse this spring!!!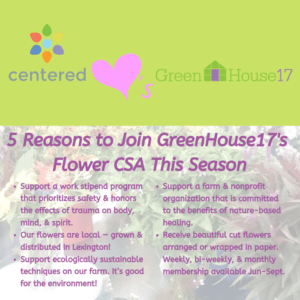 Just as our work with survivors is holistic in offering group, nature-based and social-based support and healing, Centered is focused in "supporting, educating and inspiring our world through the moving, visual and healing arts." They do it all, too! Centered offers acupuncture, meditation, yoga, life coaching, massage, a wholesome café, and a number of retail products! 
In the past, Centered has also worked directly with our survivors by offering yoga and other healing exercises free of charge.  
Their message to you, "If you are new to our space, please know that we welcome you as you are, where you are in your journey. Please stop by for a personalized tour; we would love to meet you."