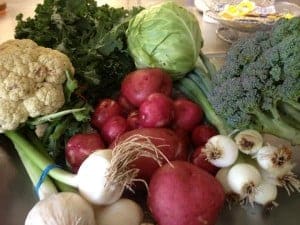 Farm
CSA – Enjoy a share of our harvest
Do you enjoy seasonal, locally grown vegetables and berries? Would you consider purchasing a "share" of our farm's produce or flowers?
We are exploring options for a new Community Supported Agriculture (CSA) project for the summer season. A CSA is a pre-ordered, prepaid share in a farm's harvest. Although many CSAs require a seasonal or annual subscription, we are planning to offer weekly or monthly options.
Shares will cost about $25 a week for a basket filled with a generous supply of produce or flowers harvested that week. CSA members would be required to pick up their baskets on a set day of the week at a convenient downtown location.
If you are interested in joining our CSA project, please contact Jessica at 859-519-1902 or send her an email.
All produce and flowers are grown utilizing principles of earth stewardship and sustainable agriculture by our survivors and staff.  Proceeds will support our farm program.