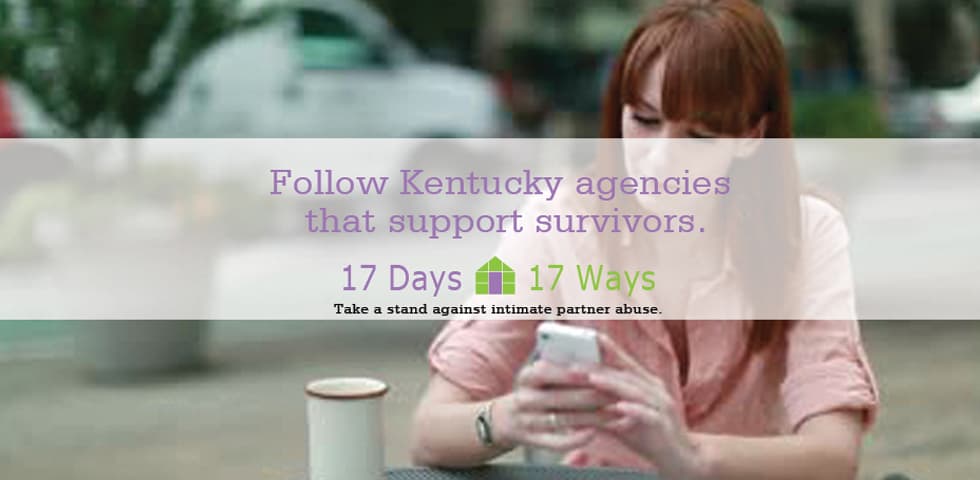 Blog
Day 11: Follow Kentucky Organizations That Support Survivors
Liking and following partners in the mission to end intimate partner abuse is a great way to engage in the mission and advocate for survivors.  We hope you already like us on Facebook and follow us on Twitter and Instagram. And here are some of the organizations we follow. What organizations and businesses committed to ending intimate partner violence did we miss? Leave a comment to let us know.
100 Women
Facebook
A grassroots, all-volunteer women's advocacy and philanthropic group serving the Bluegrass region of Kentucky, with a particular focus on the needs of women, children, families.
Bluegrass Rape Crisis Center
Facebook
An organization committed to ending sexual violence through crisis intervention, therapy, advocacy and education.
Chrysalis House, Inc.
Facebook
Supporting central Kentucky women and their families in recovery from alcohol and other drug addiction.
Dress for Success Lexington
Facebook
Empowering women in our community and change their lives.
Glean KY
Facebook
Gathers and redistributes excess fruits and vegetables to nourish Kentucky's hungry.
Grow Appalachia
Facebook
Planting seeds for a sustainable future by providing families in Central Appalachia with the tools to grow nutritious food.
Heart of Kentucky United Way
Facebook
Promotes the common good by focusing on Education, Income, and Health in Boyle, Garrard, Lincoln, and Mercer counties.
Kentucky Coalition Against Domestic Violence
Facebook
Ending intimate partner violence, promote healthy relationships and engage communities through social change, economic empowerment, educational opportunities and other prevention strategies.
Kentucky Association of Sexual Assault Programs
Facebook
Promoting prevention and public awareness regarding sexual violence and related issues.
KYForward.com
Website / Twitter
KyForward will provide Kentucky with a comprehensive, multi-media news website with a strong public service component.
Mary Byron Project
Facebook/Twitter
The Mary Byron Project is a not-for-profit organization dedicated to fostering innovations and solutions to end domestic violence.
Mitchell Family Foundation
Facebook / Twitter
UK Coach Mitchell's family foundation believes in strength of character, and we work tirelessly for its cultivation in our community.
MOLLY MAID of Greater Lexington
Website
Donating a dime of every clean to support survivors of intimate partner abuse.
The Nest
Facebook
The Nest – Center for Women, Children and Families offers child care, counseling services, parenting classes and crisis care in Lexington.
Plantory
Facebook / Twitter
The Plantory is Lexington's nonprofit center for incubation, organizational support, coworking, and cross-sector collaboration.
Seedleaf
Facebook / Twitter
Nourishing communities by growing, cooking, sharing, and recycling food in Lexington, KY.
Violence Intervention and Prevention (VIP) Center
Facebook
Shaping a violence-free campus at the University of Kentucky.
United Way of the Bluegrass
Facebook / Twitter
Improving the lives of all Central Kentuckians.
This post is part of our 17 Days/17 Ways campaign to take a stand against intimate partner abuse.