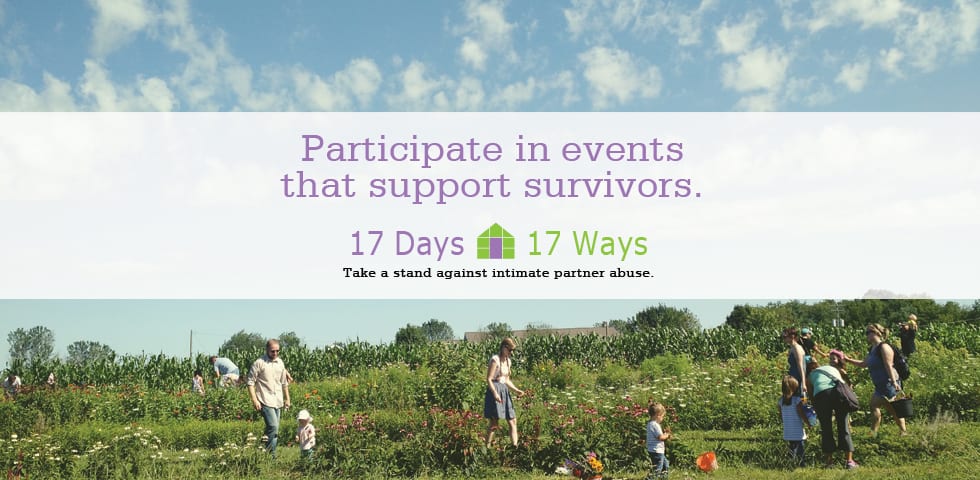 Blog
Day 2: Participate in Events that Support Survivors
Isolation is one of the most common tactics used by abusers to maintain power and control. Although some survivors have a strong support system, many are navigating their journeys toward safety and healing alone.
"My friends supported me for the first months, but then they just didn't want to talk about it anymore."
"We moved more than a hundred miles away from my friends and family the day after our wedding."
"I had to leave behind friends I'd known since childhood just to stay alive."
When you attend community events that support survivors, your presence sends a strong message to survivors. Your participation reminds survivors they're not alone. And that our community cares about their well-being.
Our Autumn U-Pick Day on the farm this Saturday, October 3 is a fun and affordable event that supports survivors. Come on out to the farm between 10 a.m. and 2 p.m. to pick beautiful flowers from our farm. Only $10 for a bucket of local flowers grown by strong survivors.
"This many people in my community support me?!"
"I looked around and realized no one in this room judges me."
"It made me feel good to know that so many cared for my well-being, even if I don't know them personally."
We'll be picking this Saturday, rain or shine, so long as the weather is safe. Bring your bucket and clippers, if you got 'em. If not, we'll have some for you to use. This is a rain or shine, family-friendly event. Let's fill the farm with love and support to remind survivors they're not alone in our community. Send us a note if you need driving directions to the farm.
This post is part of our 17 Days/17 Ways campaign to take a stand against intimate partner abuse.