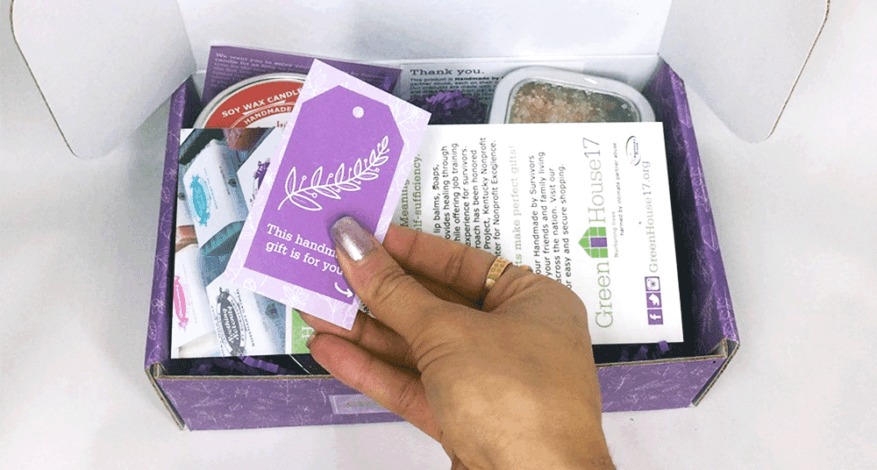 Blog
Handmade by Survivors for Valentine's Day
Celebrate love and healthy relationships on Valentine's Day with a Hope Box of Handmade by Survivors products.
A Hope Box of Handmade by Survivors products makes a special gift for a partner, friend, and yourself. Every Hope Box includes each of the following:
.25 oz tube of lip balm

5 oz bar of  soap

8 oz tin of bath salts

3 inch soy wax candle
Our Hope Box ships free to any address across the nation. Products are packaged in a cute printed box with information enclosed about our mission to end intimate partner abuse. Let us know if you'd like to include a short note for your special someone. We'll handwrite your message on a gift card for no additional charge.
More giving ideas
Send a Lip Balm Sampler to your friends to celebrate them on Valentine's Day, They'll love the natural ingredients and sassy names of our lip balms: Don't tell me to smile, Dissent, Zest for rights, and Concinnt.
Encourage your friend or partner to take time for a little self care during the Valentine's Day weekend with the gift of a Bath Salt Sampler. Blends of Himalayan pink salt, Epsom salts, and essential oils soothes body and spirit.
A hand-poured soy wax candle with natural essential oil fragrance always makes a perfect gift. Our  Candle Super Sampler includes plenty of candles to share with friends and loved ones on Valentine's Day.
Every purchase supports survivors
Your purchase of Handmade by Survivors products will support victims of intimate partner violence as they establish safety, heal from the physical and emotional wounds of abuse.
Making products has a special connection to our mission. The process provides collaborative work and microenterprise experience for survivors, while also generating resources for our organization.
Our products are Kentucky Proud.