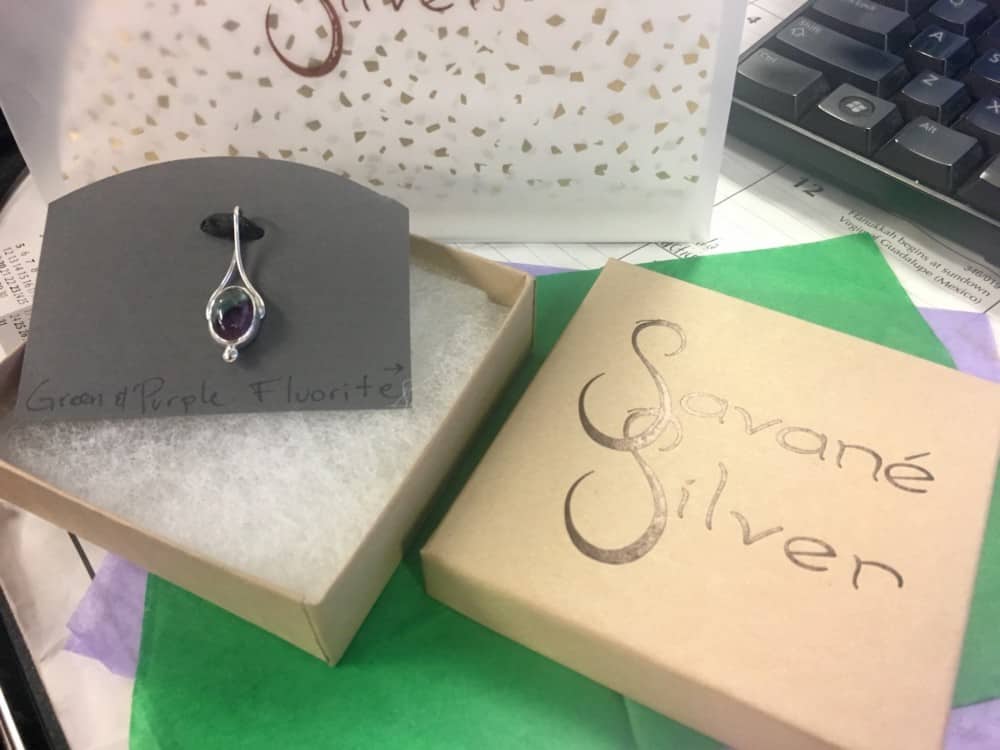 Blog
Honoring Service with Savané Silver
As a nonprofit organization, our work is guided by our Board of Directors. These volunteers from social, financial, legal, creative, and other professional sectors give hundreds of hours of time to our mission during their three years of board service. And most of our board members renew their services for the second three-year term allowed by our by-laws.
How do you say thank you for so many years of commitment to supporting survivors?
Darlene Thomas, our Executive Director, was looking for a way to honor retiring board members with a small gift that reflected our gratitude for their service. The vision was a gift that would matter for a long time. Something special. Something more personal than a logo desk clock or paper weight.
That's when she met Rachel Savané, founder of Savané Silver in Lexington.
Rachel creates beautiful handmade silver jewelry featuring gemstones thoughtfully chosen for each piece, and part of her business model includes supporting local charities and nonprofit organizations like ours. After meeting with Darlene to explore our organization's services and philosophies, Rachel personally created the design for our organization's board service gift.
Each pendant or tie tack showcases a hand-selected purple stone that represents the color of domestic violence awareness. Next comes a silver design to complement the individual qualities of each gemstone. Rachel shares more about her creative process on her website.
"I create my jewelry designs drawing inspiration from each carefully chosen fine gemstone, while combining curvalinear silver to create a distinct melodic energy in each piece as I inject design in every element of the jewelry often manifesting new functionality."
The Connection to Our Mission
Rachel's care and creativity makes each piece of Savané jewelry unique. In many ways, her approach to design echoes the way we approach services. We believe every survivor's story is different, and every survivor deserves support to meet their individualized, self-determined healing goals.
We are proud to present our retiring board members with a local, unique, and beautiful gift that honors their commitment to ending intimate partner abuse.  Thank you, Rachel, for creating beauty and supporting organizations like ours.
To learn more about Savané Silver, visit the website or call 859-455-8111 for showroom hours.
___________
The image featured is from Kristen Kennedy, former member of our Board of Directors.