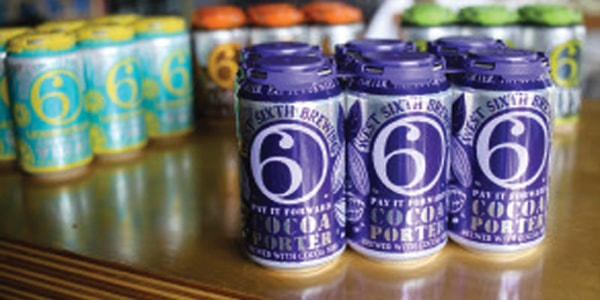 Blog
West Sixth Brewery: Pay It Forward Cocoa Porter
West Sixth Brewery has chosen our organization to be  this quarter's beneficiary of their Pay it Forward Cocoa Porter!
Every time a six-pack of Cocoa Porter is sold in the central Kentucky region, West Sixth Brewery will donate 50 cents to help survivors of intimate partner abuse. And Clark Distributing will match this donation with another 50 cents. That's a dollar for every six cans sold through December 31.
The brew is described as "a robust American porter that has been brewed with organic, direct-trade cocoa nibs" and "dominated by roasty malts and a strong aroma of chocolate."
In addition to the taproom at West Sixth Brewery, you can purchase the Pay it Forward Cocoa Porter at select liquor retail locations throughout the area.