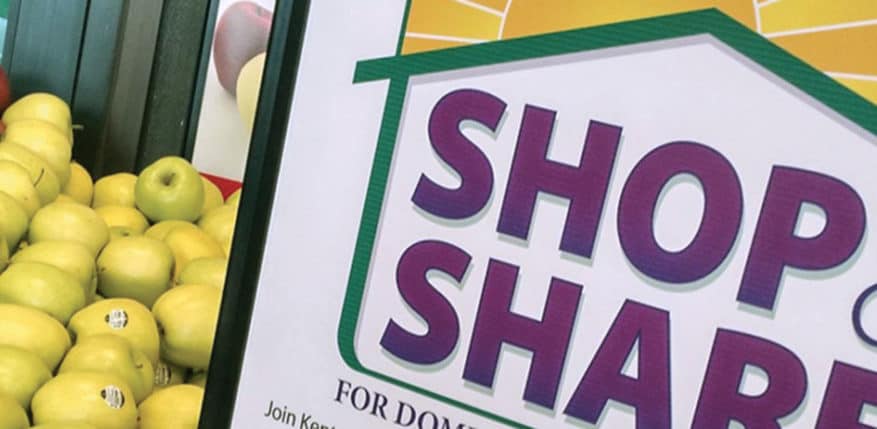 Blog
Shop & Share Postponed
This year's Shop and Share event has been postponed for health and safety as we continue to practice social distancing during the pandemic response.
Shop and Share — organized by the Office of The First Lady and Kentucky Coalition Against Domestic Violence in partnership with Kroger — usually happens on the Saturday before Superbowl Sunday. Like most other major events during the pandemic, it must be postponed for the health and safety of our community.

HOW IT HELPS
Shop and Share is a day of massive turnout – nearly 20 participating Kroger sites, over 100 dedicated volunteers, and thousands of generous shoppers donate enough items to stock our pantry for almost the entire year.
We're always humbled and impressed by our community's amazing care and support for survivors. During the past 10 years of the event, more than $5 million in goods and monetary donations have been donated for the 15 domestic violence shelter programs that make up the Kentucky Coalition Against Domestic Violence.
RESCHEDULE PLANNED
We're hopeful Shop and Share will happen soon, most likely in late spring or early summer. In the meantime, we still have some general needs of items that are running low or are in constant demand.
You can shop our Amazon Charity Smiles Lists to purchase the most-needed supplies and goods at the shelter. Items will ship directly to our shelter's address, and Amazon will donate a portion of your purchase to support our mission. 
If you have any questions, send us a note or call Reena at 859-519-1911.