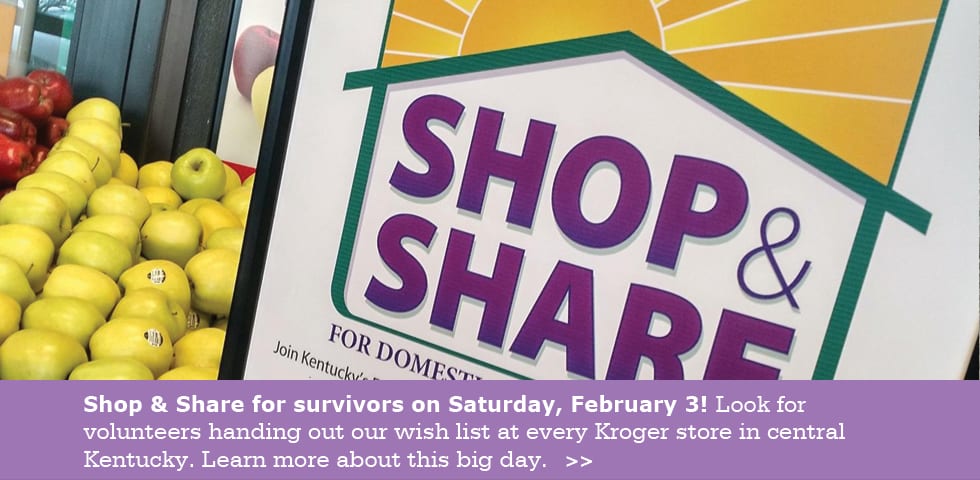 Blog
Shop & Share for Survivors
We hope you'll save the date to Shop & Share for survivors on Saturday, February 3 from 9 am to 5 pm.
On Shop & Share day, volunteers at Kroger stores across central Kentucky will be providing shoppers with a list of items needed at the regional domestic violence shelter for victims of domestic violence, such as non-perishable foods, hygiene products, and cleaning supplies.
Goods collected in central Kentucky stores will benefit our emergency shelter.
Last year, shoppers at more than 120 Kroger and other grocery stores across Kentucky donated $541,151 in supplies and funds during the 8th annual Shop & Share. To date, Shop & Share has raised close to $4 million in combined goods and monetary donations for KCADV's member programs.
"This is one of our agency's most important days," explains Darlene Thomas, Executive Director. "In just a few hours, generous
shoppers donate enough supplies to stock our shelter for almost a year."
Shop & Share partners include the First Lady's Office, KCADV, Kroger, Food City, Super Dollar stores, IGA, General Federation of Women's Clubs, Girl Scouts of Kentuckiana, Girl Scouts of Wilderness Road Council, and Kentucky Drug Court.