Blog
Shop & Share – A day to support survivors
"It takes a village!"
This is how Darlene Thomas, our Executive Director describes Shop & Share, a one-day donation drive at every Kroger in our 17-county service area. In just a few hours, generous shoppers donate enough non-perishable goods to keep our shelter stocked with paper products and non-perishable foods for almost a year.
"The beauty of this event is that individuals participate in a small way that creates tremendous collective impact," explains Darlene.
A Volunteer's Perspective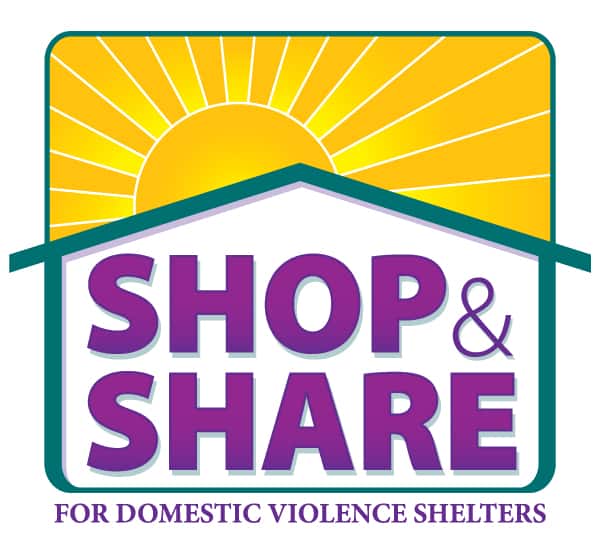 Rebecca Kelly has been volunteering for Shop & Share for three years now. She is stationed at the Bellerive Boulevard Kroger in Jessamine County, "speaking to patrons – asking for donations, and providing education about the issue of relationship violence in our communities, and ways in which they can help."
Rebecca says intimate partner abuse is an issue she has always cared about. Having worked in shelters before, she says, "I understand the challenges and expense of meeting basic needs and that in certain times there is the absolute necessity for donations both in goods and in monies to help survivors get through all stages of their process."
"Shop & Share gives me one way to be a part of a movement that has always been important to me and I am grateful to do it." – Rebecca Kelly, Shop & Share volunteer
She adds, "Shop & Share allows members of the community the opportunity to participate in social change in a simple way either through their donations or through their volunteering. I love Shop & Share and I think it is an excellent way to get the word out to folks who may not otherwise be familiar with this issue and the services available to those directly effected."
Event History
Former First Lady of Kentucky Jane Beshear founded Shop & Share ten years ago, as a way to engage the community and help domestic violence shelters across the state. Current First Lady Glenna Bevin has continued the tradition.

Event partners include the Kentucky Coalition Against Domestic Violence, the Girl Scouts Councils of Kentucky, General Federation of Women's Clubs, Kentucky Drug Court, and more.
About half a million dollars each year in goods and food are collected in Kroger locations in our central Kentucky service area. All of these products help offset the daily cost of basic needs for families staying at the GreenHouse17 shelter.
For more information about volunteer needs and to sign up to help during this year's Shop & Share, please visit this page on our website.