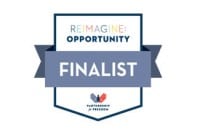 Blog
We are a Partnership for Freedom Finalist!
We have big news to share! We've learned an idea we submitted to a national competition was chosen as a finalist from more than 160 submissions representing 260 applying organizations
A few weeks ago, our staff submitted an idea to the Partnership for Freedom, a competition seeding innovative ideas to better care for survivors of modern-day slavery in the United States. Reimagine: Opportunity, the first of three challenges to be issued by The Partnership for Freedom, seeks creative, sustainable ways to address critical issues faced by human trafficking survivors: sustainable housing, economic empowerment and social services
Our idea supports survivor healing and self-sufficiency through development of agricultural vocation and small business skills to promote economic independence. The program model borrows from the agricultural practice of value-added production, a process that increases the economic value of produce by altering its condition.
We have formed a project team — representing our organization, Grow Appalachia, and Berea College — and will travel to Washington D.C. next month to participate in an Innovation Workshop to refine our idea and prepare our proposal for final submission. We look forward to sharing and exploring our commitment to agriculture-based healing with national leaders and innovators to help find solutions for survivors.
Final winners will be announced in Spring 2014 and will receive funding to begin piloting their solutions. We will keep you updated along the way. Wish us luck!