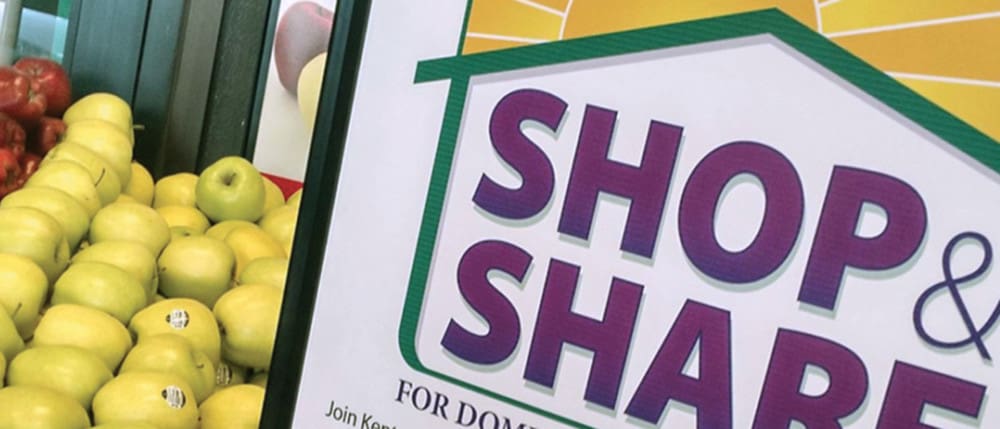 SAVE THE DATE & CALL FOR VOLUNTEERS
Volunteer registration for this event has ended.
Shop & Share is scheduled for Saturday, February 1, 2020! This one-day event to support Kentucky's domestic violence shelters is organized by the First Lady's Office and Kentucky Coalition Against Domestic Violence. Shoppers at Kroger stores across central Kentucky donate from a list of items our shelter needs, such as non-perishable foods, hygiene products, and cleaning supplies.
Shop & Share is a big day for our organization. And lots and lots of volunteer support makes it possible! 
Your support will help stock our shelter supplies for almost a year. Donations will be collected at more than 20 Kroger locations across more than four thousand square miles in central Kentucky. We're currently seeking volunteers — community groups, work groups, faith groups, and individuals to help.
VOLUNTEER OPPORTUNITIES
STORE VOLUNTEERS
Individuals or Groups
Hours: 9 am – 5 pm (full or half-day shifts)
Your group will "adopt-a-store" in our 17-county service area from 9 am to 5 pm on the event day, Your mission will be to distribute shopping lists, answer shopper questions, and accept generous donations. Your group can determine how to organize coverage for your store, but we've found it takes about 10-12 volunteers throughout the day. Individuals interested in volunteering at a store location can choose from locations and shifts not covered by a group.
PICK UP & DELIVERY
Individuals & Groups with Trucks
Hours: 12 – 8 pm (full or half-day shifts)
Got a truck or trailer? This role is for you! Every item donated during the big day has to be picked up from the stores and delivered to our shelter in rural Fayette County. We've found that two pickups at each store location — one at midday around noon and one at the end-of-event around 5 pm –work best.
UNLOADING & SORTING
Individuals & Groups
Hours: 12 pm – 8 pm (full or half-day shifts)
When deliveries arrive at our shelter, we'll need to unload the trucks, trailers, and trunks. And sort through the donations. Some will be temporarily stored in PODS, while other donations will need to be moved inside to our shelter.
VOLUNTEER REGISTRATION FOR THIS EVENT HAS ENDED