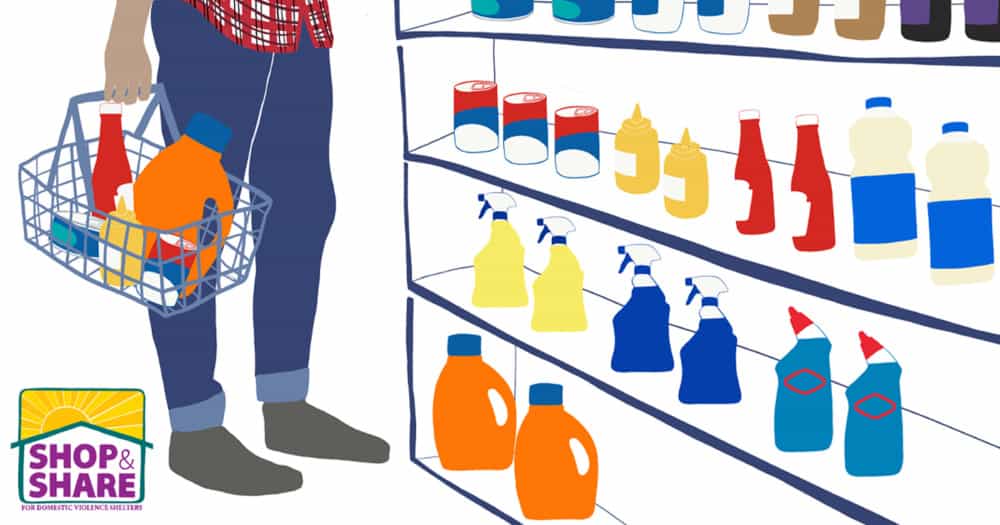 Volunteer registration for this event is closed. If you've signed up to help and have any questions, please contact Reena at 502-320-6892.
This year's Shop & Share is scheduled for Saturday, May 8. Although only a one-day event, shoppers donate enough non-perishable goods to stock our pantry for almost a year!
Shop and Share is organized by the First Lady's Office and Kentucky Coalition Against Domestic Violence to support emergency shelters across the state. Every item collected at Kroger stores in our 17-county service area helps survivors in the central Kentucky region.
It's a big day that's made possible with the support of more than a hundred volunteers!
This year will look a little different because of social-distancing during the pandemic. Volunteers at Kroger locations won't be able to meet shoppers at the door to hand out our wish list, but they'll have plenty of copies available at a table near the entrance.
Our wish list for this year includes canned pasta, tuna, peanut butter, jelly, condiments, paper towels, aluminum foil, diapers, store gift cards, and more. Some shoppers donate a couple of items, while others are inspired to donate more.
Darlene Thomas, our Executive Director, will always remember this story about a donation made the first year the event was held.
"A gentleman walked up to the table with two carts. One was overflowing and the other just had a couple of bags. I assumed the small cart was for donations, but that wasn't the case. He had purchased almost every item on our wish list to donate to our shelter because his mom was a survivor."
Shop & Share was initiated by former First Lady Jane Beshear. The event has collected goods valued at more than $5 million dollars during past years.