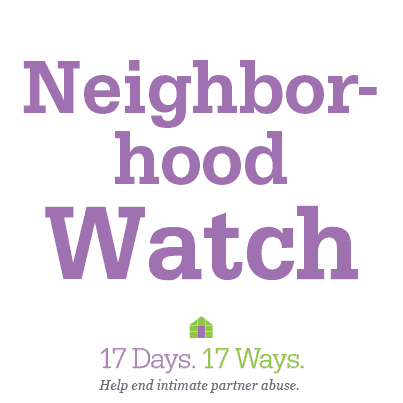 Blog
17 Days/17 Ways — Neighborhood Watch
A domestic violence awareness organization in Johannesburg created this powerful public service announcement. It's an experiment.
(Video courtesy of POWA via Youtube.)
Loud drumming prompts the ire of neighbors and even resulted in a lecture about respect. Loud noise associated with intimate partner abuse is ignored. One might assume the lack of response from neighbors could be related to the dangers associated with the violence — and this is very valid. It is dangerous to intervene in a physical altercation.
But neighbors can take steps to help if they hear or witness intimate partner abuse in the neighborhood. Dialing 911 should always be the first response. Setting off a car or property alarm could distract the abuser until law enforcement arrives.
But the best response is a proactive one.
If your neighborhood has a watch group, please urge them to add domestic violence to the list of crimes. Call us to educate watchers about the signs of intimate partner violence and help them develop plans to safely respond. Then, publicize your neighborhood's commitment to holding abusers accountable and supporting survivors.
Your actions will help create a safer neighborhood for everyone.
This post is part of our 17 Days/17 Ways campaign during Domestic Violence Awareness Month.