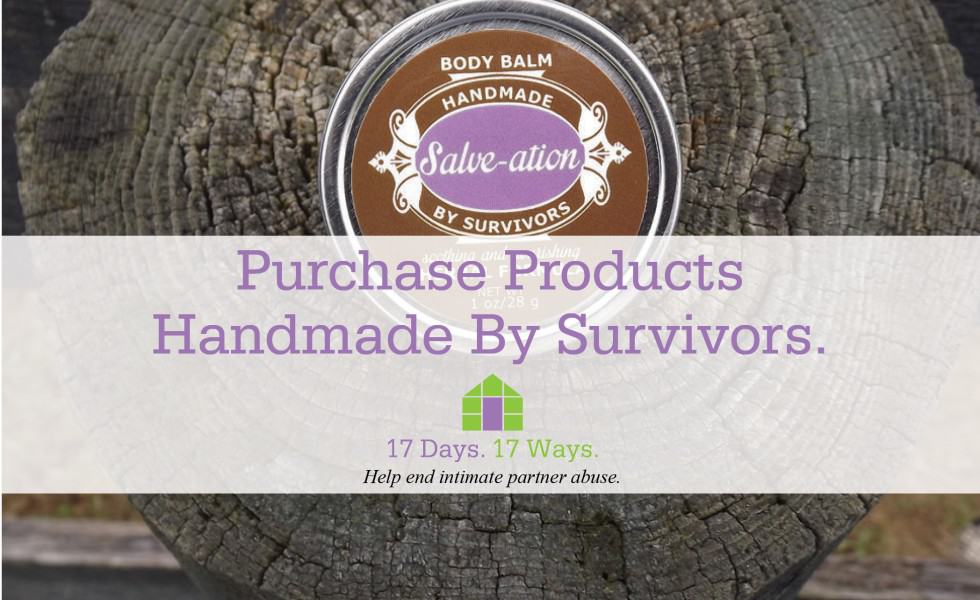 Blog
17 Days/17 Ways – Purchase Products Handmade By Survivors
Our new Etsy shop opens for business today!

The shop features ten listings for body care products handmade by survivors of intimate partner abuse. We're so excited to share this big announcement with you. It's been many months in the making.
Survivors enrolled in our farm stipend program began experimenting with product recipes and making test batches of products at the beginning of this year. Some early recipes were spot on, and others needed a little tweaking. Through trial and error and openness to the possibilities, we managed to find the perfect formula for each product.
Along the way we also completed certification training, sought lots of advice from our community partners, and forged some exciting new relationships with regional businesses. It's all been an amazing learning experience.
And this process of making products has a special connection to our mission.
Activities related to the production of these products add value for survivors through restorative healing, collaborative, and micro-business experience.  There is nothing more beautiful and affirming for our program than to see survivors take on the role of leaders, and we witness this as they facilitate production and teach new stipend participants.
Sales of products will add value to our organization, too. Our organization benefits from a trauma-informed program model to address barriers faced by survivors while generating revenue to support services for survivors. We wanted the marketing of our products to highlight this important connection to the mission. All packaging proudly include the phrase "handmade by survivors," and the names for each of the products recall the healing experiences of survivors.
Please visit the shop and help spread the word. Our Handmade by Survivor products make meaningful holiday gifts for friends, family, and co-workers!  100% of your purchase from our shop supports survivors of intimate partner abuse.
[portfolio_slideshow id=1869]
The integration of our farm and product programming with traditional services for survivors of intimate partner abuse has received the national Mary Byron Project Celebrating Solutions Award, Kentucky Nonprofit Network Innovative Nonprofit Award, and the Center for Nonprofit Excellence Pyramid Award for Social Innovation. And we're so fortunate and grateful for the help and guidance from our friends at Grow Appalachia during this journey.
This post is part of this year's 17 Days/17 Ways Campaign to end intimate partner abuse.