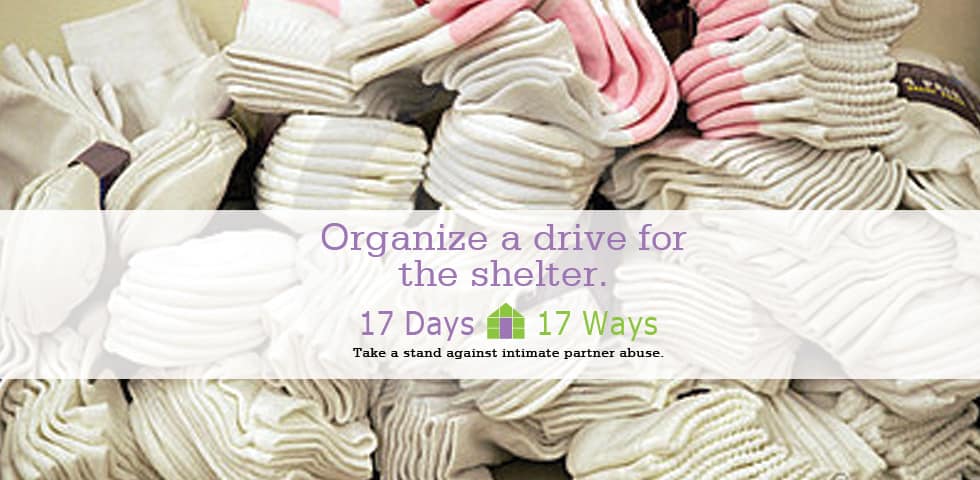 Blog
Day 10: Organize a Donation Drive
Survivors of intimate partner abuse leave behind so much when they flee violence.
Homes.
Jobs.
Friends and family.
Pets.
Some survivors have time to pack a bag of essential clothing and keepsakes that matter to them. Others arrive at our shelter with just the clothes on their backs. Children in shelter especially miss their favorite stuffed animals and toys, and very few survivors are able to flee with everyday items that bring comfort like warm slippers or a favorite coffee mug.
A donation drive is a great way for school, community and faith groups to take a collective stand against intimate partner abuse and support survivors.
Our Right Now Wish List
Our shelter is always in need of new socks, twin-size bedding, and robes for survivors. Right now we could sure use some basic supplies like toilet paper and feminine hygiene products.
We update the wish list on the right of this page every month or so.  Send us a note if you'd like to connect about planning a collection or need directions to deliver your donations to shelter.
Holiday Wish List
Winter is just around the corner, and it's not too early to start thinking about holiday donation drives.
More than 100 adults and their dependent children surviving intimate partner abuse this winter will look to us for holiday help. At any given time about half of our shelter residents are children.
Your purchase and delivery of holiday gifts for survivors of all ages really makes a difference. Follow this link for our holiday wish list.
Gently Used Donations
People often ask if we accept donations of gently used clothing and furniture. We sure wish we could, but storage limitations at our shelter make it difficult.
We're lucky to have some amazing community partners that help. Area Goodwill locations will happily accept gently loved clothing on our behalf, and our friends at the Lexington Habitat for Humanity ReStore accept gently used appliances for survivors.
Just drop off your donations during their regular operating hours, and tell the customer service agent that it's for GreenHouse17. They'll ask you to complete a special donation form. Then survivors who are receiving our services will receive shopping vouchers in the value of your donation.
This post is part of our 17 Days/17 Ways campaign to take a stand against intimate partner abuse.