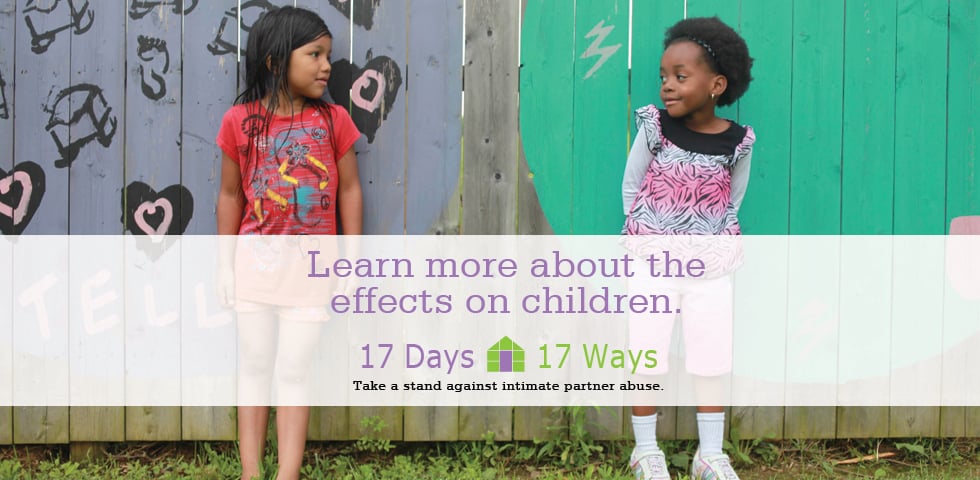 Blog
Day 15: Learn More About the Effects on Children
Futures Without Violence reports 15.5 million children in the United States have been exposed to intimate partner violence at least once in the past year. Children know the abuse is happening. They overhear the arguing and see the bruises.
It was my fault.

I am unlovable and unworthy of love.

I should have been able to stop it.
On any given day, about half of the residents at our emergency shelter are children. Some studies suggest that 40-60% of children who live in homes where violence occurs are being physically and/or emotionally abused, too.
Trigger alert – This video contains chilling audio of a 911 call.
Trailer for The Children Next Door from CDV Association.

Although every child responds differently to the violence, research finds common age-specific responses. These effects are compounded by the duration and severity of the abuse.
Pregnant women who are abused are at higher risk of miscarriage.
Infants may experience developmental delays, excessive separation anxiety, sleep disturbances, disruptions in feeding schedule, and failure to thrive.
School-age children often exhibit depression, anxiety, and sometimes aggression alongside physical symptoms such as headaches, stomachaches, bed-wetting, and sleep disturbances.
For many teens, poor academic performance or the need to achieve perfect academic performance is common, as well feelings of responsibility for their siblings or abused parent. Drug and alcohol abuse and running away from home often occur.
Children deserve a safe home and a life free of violence.
Age-appropriate safety plans can protect children from harm. And the support of trusted adults is key. The National Child Traumatic Stress Network has compiled easy-to-use resources for parents, teachers, and service providers. You can download the pdf at this link. These words matter:
I believe you.

It's not your fault.

Anger and frustration are OK, but violence is not.

Feeling angry at your parents doesn't mean you don't love them.
Call our hotline if you are worried about a child exposed to intimate partner violence. Our counselors are available 24-hours a day, every day of the year to safety plan and provide resources: 800-544-2022.
This post is part of our 17 Days/17 Ways campaign to take a stand against intimate partner abuse.