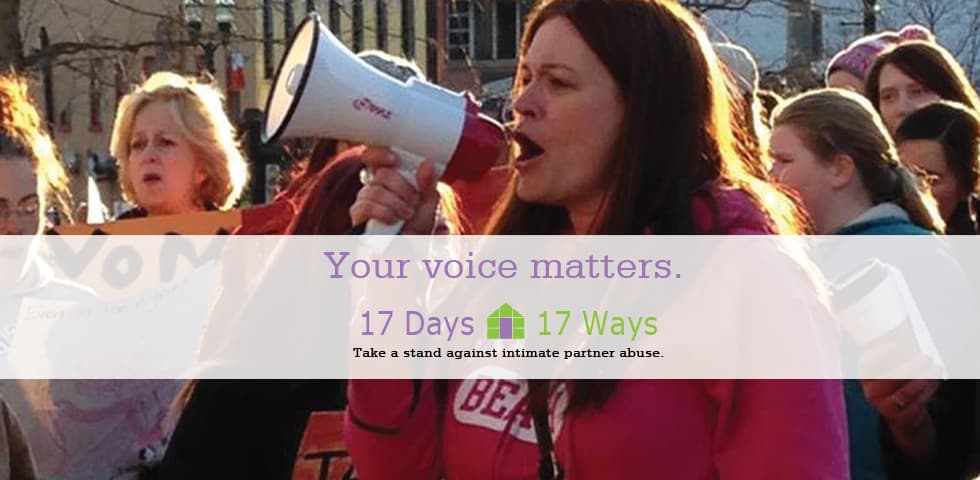 Blog
Day 17: Believe Your Voice Matters
Candy Lightner's voice changed drunk driving laws.
Lilly Ledbetter's voice protected women in the workplace.
Todd Beamer's voice coordinated passengers to thwart a terrorist airstrike on the Pentagaon.
Ryan White's voice changed our understanding of HIV/AIDS.
If one voice can shift national and international history, then your voice really matters right here in the central Kentucky community. What would happen if every person in your neighborhood took a stand against intimate partner abuse? What if every central Kentucky resident supported survivors?
Imagine if each and every one of us believed that our voice matters and…
Changed our profile pics and shared information about intimate partner abuse on social media.
Attended events to support survivors and violence prevention in our community.
Spoke up when friends and family blame use victim-blaming language.
Made the connection between human and animal abuse, and committed to protecting family pets, too.
Reached out to someone in need to provide support and resources.
Though about how we'd respond if witness to intimate partner abuse.
Volunteered our time and talents to help local shelters and organizations.
Honored the unique barriers faced by LGBTQ survivors.
Talked to young people about healthy relationships at home, school and places of worship.
Organized a donation drive for the shelter!
Supported organizations that support survivors in our community.
Spoke the names of victims who are no longer with us.
Read, watched, and listened to stories of survival to understand the issue more.
Purchased Handmade by Survivors products to support survivor healing and self-sufficiency.
Learned more about the effects of intimate partner abuse on children.
And honestly reflected on our own behavior.
Your voice matters. ​Your ideas, words, and actions make a difference. Take a stand against intimate partner abuse this month and every month.
This post is part of our 17 Days/17 Ways campaign to take a stand against intimate partner abuse.