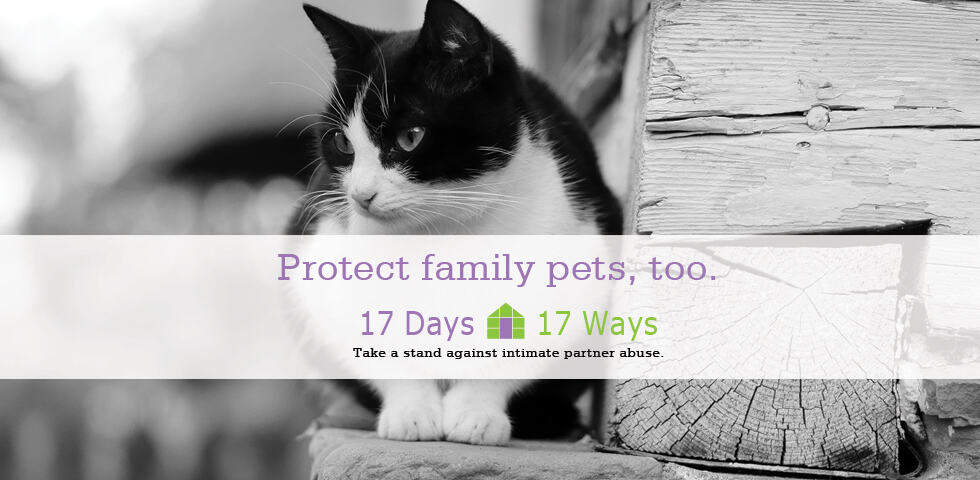 Blog
Day 4: Protect Family Pets, Too
The National Coalition Against Domestic Violence reports more than 40% of victims stayed with their abusers because of concerns for the safety of animal companions. And more than two-thirds of survivors with animal companions say their abusers harmed family pets for revenge or emotional control.
With the support of RedRover, a national organization committed to helping animals in crisis, we offer kennels on the property that surrounds  our emergency shelter. The kennels are based in the SAF-T™  model, a global initiative that encourages domestic violence shelters to Shelter Animals and Families Together.
The Lexington Humane Society helped us develop the program, and they provide free examinations and vaccinations for every animal that lives with us. Our friends at the Chevy Chase Animal Hospital provide medical care for animals with injuries from abuse. Each kennel includes an access door to a fenced run area under beautiful shade trees. When weather conditions are too hot or cold for pets to safely reside in the kennels, we turn to a circle of animal foster families to care for family pets while their humans find safety at the shelter.
You can learn more about the connection between animal and human abuse at the SAF-T website. And check out the Spot Abuse Project that encourages the reporting of suspected animal abuse to protect victims of domestic violence. The campaign is based on research from the Association of Prosecuting Attorneys that found 76% of animal abusers also abuse a member of their family.
Please share this information with your friends and family, and send us a note if you're interested in making a donation of food, bedding, or other animal care supplies for the kennels. Together we can protect family pets, too.
This post is part of our 17 Days/17 Ways campaign to take a stand against intimate partner abuse.