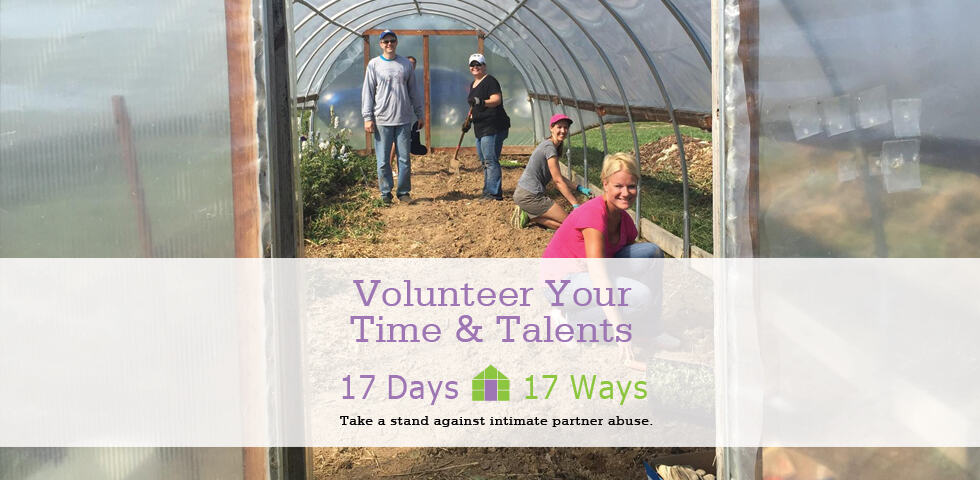 Blog
Day 7: Volunteer Your Time and Talents
When you volunteer your time and talents to support survivors of intimate partner abuse, your actions send a strong message.
You are worthy.

You are important.

You deserve to be cared about.

Your safety and healing matters.
Volunteer service benefits those who are helping, too. A report from Harvard Health Publications finds adults who volunteers for at least an hour a month are happier than an adults who don't volunteer.
So, how can you get happier by supporting survivors? In the words of Mark Bezos: "Don't wait…if you have something to give, give it now."
If you're interested in volunteering as a group of friends, family or co-workers, the possibilities are plenty:
Fence painting and repairs
Seasonal help on the farm
Collecting and delivering holiday gifts
Sorting and organizing nonperishable groceries
Minor repairs on the property
Landscaping/yard work
Volunteers interested in one-time or recurring involvement are required to complete a Volunteer Application prior to beginning service. Your individual volunteer time can be tailored to your interest and expertise. Here are some ideas:
Data entry
Donation delivery and pickup
Helping at fairs and community events
Building maintenance/winterization
Workshops related to workplace skills and business enterprise
Complete this form if you'd like to chat with Vanessa, our Volunteer Coordinator, about volunteer opportunities. She looks forward to hearing from you and matching you or your group with the perfect volunteer service to support survivors.