Define American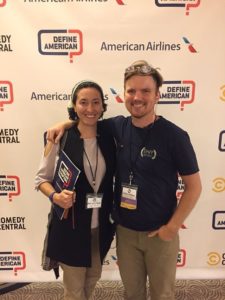 Many of us use words without considering their origin and effect on others. Whether we are aware of it or not, the vocabulary we hear and use on a daily basis affects both our perception of those seemingly different from us, and of ourselves. Think of that time your grandpa bursted out "retard" to refer to someone with differing mental abilities, or perhaps when you refered to an undocumented immigrant as an "illegal."
 Language shapes all aspects of life, yet more often than not, we disregard the fact that words are powerful weapons. We allow things like our immediate surroundings, the media, biases, and superiority complexes shape our negative opinions about others; we embrace and spread false stories about marginalized peoples without considering the repercussions of our actions.
 Two weeks ago, I had the privilege of representing GreenHouse17 at the inaugural Define American Summit in the city of Louisville. There, I met individuals from all walks of life—students, journalists, an actress from Orange is the New Black—who came together to engage in conversations about what it means to be American.
 We discussed how the prevalent narrative in our nation misrepresents, distortions, and demonizes the immigrant identity. As our friends, neighbors, and colleagues, immigrants deserve to be depicted as the complex and diverse individuals they are. Criminals, illegals, illiterate, moochers are simply fallacious terms that need to be both questioned and replaced. 
As an excerpt from the Summit's program reads, "in order to re-imagine American identity in the future, we must come together to tell America's whole story." 
SPANISH-
Muchos de nosotros hablamos sin pensar ni un segundo en la procedencia o efecto de las palabras que empleamos. Sea o no intencional, el vocabulario que escuchamos y utilizamos a diario afecta la manera en que percibimos tanto a los demás como a nosotros mismos. Quizás un día tu abuelito utilizó "retrasado mental" para referirse a alguien con habilidades diferentes, o quizá mientras hablabas con tus amigos, utilizaste el término "ilegal" para referirte a miembros de la comunidad inmigrante.
Nuestro lenguaje forma todos los aspectos de nuestras vidas. Sin embargo, la mayoría de nosotros mostramos indiferencia ante la noción que toda palabra es un arma de doble filo. Permitimos que nuestro alrededor, los medios de comunicación, nuestra parcialidad, y complejos de superioridad moldeen nuestras opiniones negativas acerca de los demás; abrazamos y divulgamos historias falsas acerca de personas ya marginadas por nuestra sociedad sin considerar las repercusiones de nuestras acciones.
La semana antepasada tuve el privilegio de representar a GreenHouse17 en la cumbre inaugural de la organización Define American en la ciudad de Louisville. Allí, individuos de todo tipo de trayectos—estudiantes, periodistas, una actriz de la serie Orange is the New Black— se reunieron para entablar conversaciones acerca de lo que significa ser Americano.
Discutimos como el narrativo prevalente de nuestra nación tergiversa, distorsiona, y demoniza la identidad del inmigrante. Como nuestros amigos, vecinos, y colegas, los inmigrantes merecen ser representados como los individuos complejos y diversos que son. Criminales, ilegales, analfabetos, y gorrones son simplemente términos inadecuados que necesitan ser tanto cuestionados como remplazados.
Como estaba escrito en el programa de la cumbre, "Para poder re imaginar la identidad Americana en el futuro, debemos unirnos para contar la historia completa de América."