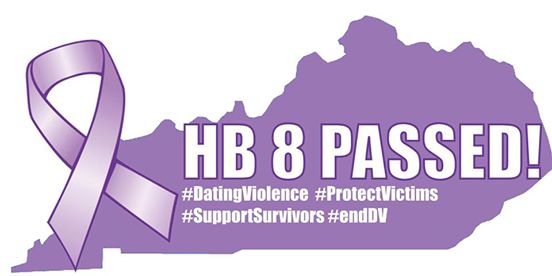 Blog
Kentucky Dating Violence Legislation Passed
By Darlene Thomas
Executive Director
For seven years advocates across the Commonwealth of Kentucky have sought protections for victims of dating violence.
Late last night — just before midnight — House Bill 8 made its way to the Senate floor, where it passed with only one dissenting vote. About thirty minutes later, the House concurred with the Senate changes with a 100-0 vote! And Governor Steve Beshear tweeted that he looks forward to signing the legislation into law.
Thank you Governor and First Lady Beshear, Representative John Tilley, and Senator Whitney Westerfield for championing this critical legislation. Thank you to every legislator who leads with support of victims and survivors. And thank you to every advocate who never lost their voice.
Dating violence, sexual assault, and stalking victims were heard last night. Soon protections under the civil protective order system will be provided. Lives will be protected and saved!