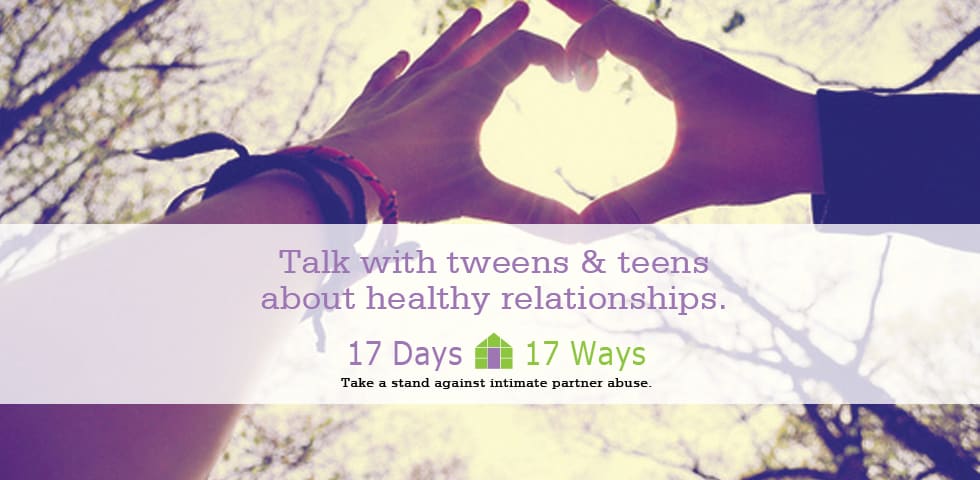 Blog
Day 9: Talk to Young People About Healthy Relationships
Dating relationships, even healthy ones, are complex at any age.
Do I trust my dating partner?
Do I feel supported?
Do we respect each other?
These questions are especially important for teens in dating relationships to consider. The Centers for Disease Control and Prevention reports nearly 1.5 million high school students nationwide experience physical abuse from a dating partner each year, but studies show that only a third of teens who are being abused by their dating partner tell an adult.
Having a conversation about healthy relationships with your teenager might feel uncomfortable at first, but this is a conversation that matters. Here are some conversation starters recommended by Talk With Your Kids:
What would your ideal relationship be like?
What are you looking for in a boyfriend/girlfriend?
What does a healthy and unhealthy relationship look like to you?
The last question on the list might be difficult to answer. Love Is Respect, a project of the National Domestic Violence Hotline and Break the Cycle, explains that it can be hard to tell when a behavior crosses the line from healthy to unhealthy or even abusive. They offer this list of warning signs to help:
You notice their partner calls them names or puts them down in front of other people.
They frequently cancel plans at the last minute for reasons that sound untrue.
Their partner is always checking up on them by phone or text.
They're constantly worried about upsetting their partner or making them angry.
After you have that first conversation with your teen about healthy relationships, keep talking about it. Make connections to pop culture headlines and related topics in the news. Here are some other ways to keep the conversation going:
Share this Spotify playlist of songs about healthy relationships with your teen. They'll know how to listen to the songs, even if you can't figure it out. :)
Remind teens that they can text "loveis" to 22522 to check in with a peer advocate about their relationship.
Encourage teens in your life to take these Healthy Relationship and Good Dating Partner quizzes online.
This post is part of our 17 Days/17 Ways campaign to take a stand against intimate partner abuse.