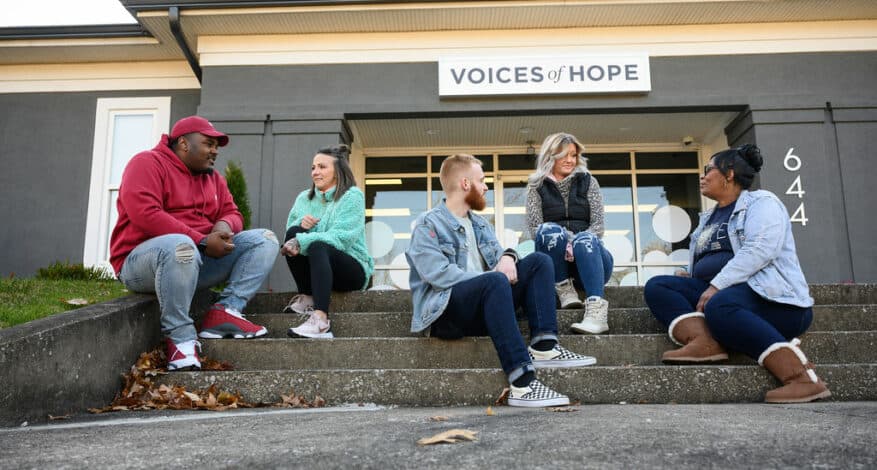 Blog
National Recovery Month
September is National Recovery Month.
Amber Clemons from Voices of Hope facilitates weekly SMART [self-management and recovery training] Recovery meetings at our shelter. We welcome her as a guest blogger this month.  
My name is Amber Clemons. I am a person in long-term recovery. My substance use began in 2011 after I had my third child. I began with using prescription opiates and that quickly escalated to using heroin/fentanyl.  
During my years in active substance use I committed crimes that ended in several jail stays and even a prison stay. I lost countless jobs, friends, my children, family, myself and so much more. When I came into recovery in September 2021 it was by the grace of God that I was arrested and incarcerated.  
During the early days of my jail stay during this time I was upset that I was in jail yet again, but then something changed in me, and I was grateful that I got pulled over that night and taken to jail. I hadn't been in recovery for almost 6 years at the time and truly had no idea what I was doing with myself or my life.  
Thankfully the Judge and Drug Court saw something in me and gave me another chance at living a life of recovery. I was released to Drug Court and sober living, which all gave me the support and accountability that I lacked prior.
Since then, I have graduated Drug Court, gained a beautiful relationship with my children and mom, am employed, and have an apartment and a vehicle. I have peace of mind and serenity with life today among so much more. 
I get to work for Voices of Hope where we meet people where they are in recovery. We provide support to people who are in recovery or seeking recovery and connect people with community resources such as clothing closets, food banks and shelters.  
We connect people to MOUD [medications for opioid use disorder] clinics or provide resources for harm reduction, connect people with treatment – whether that be inpatient, outpatient, transitional IOP [intensive outpatient] living or sober living. Voices of Hope also hosts a wide variety of self-help meetings such as AA, SMART Recovery, Crystal Meth Anonymous, Life Recovery and so many more. 
I was asked to facilitate a SMART meeting at GreenHouse17 after they heard Alex Elswick speak about harm reduction and recovery with Voices of Hope. SMART meetings are not simply about substance use but changing behaviors/attitudes and making those lifestyle changes to make better choices in the future. We also work on goal setting, values, triggers and how to properly deal with them. SMART Recovery is a meeting that can help anyone no matter what lifestyle changes they are making!