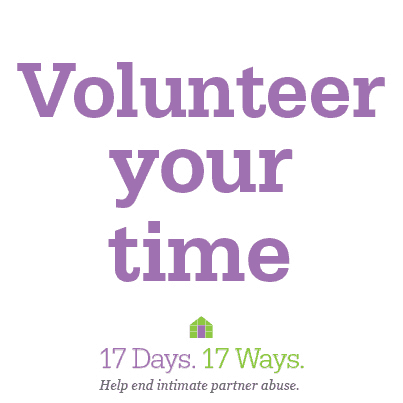 Blog
17 Days/17 Ways — Volunteer Your Time
We love our volunteers! Got an extra hour a month? A couple of open weekends? A morning every week? Please, talk to us about becoming a volunteer. You'll be happier you did. But more on that a little later.
First, let's look at this by the numbers.
It takes an amazing amount of person-power to operate a 24-hour agency that never closes. That's 8,760 hours a year! Last year, we sheltered nearly 300 adults and children, answered almost 5,000 calls to our crisis hotline, and helped more than 5,000 individuals and families.
Our staff is mighty but with fewer than 25 employees (this includes our full- and part-timers and interns), we rely on generous volunteers to  donate their time and talents. Here's a sampling of some of the individual volunteers needs we have right now:
Childcare
Answering the telephones
Advocate assistance
Data entry
Donation coordination
Transportation assistance
Donation delivery and pickup
Representing GreenHouse17 at fairs and other community events
Legal/Legislative outreach
Building maintenance
We also have a long list of  projects that are perfect for families and groups of friends, co-workers, or community organizations:
Fence painting and repairs
Seasonal help on the farm
Collecting and delivering holiday gifts
Sorting and organizing nonperishable groceries
Minor repairs on the property
Landscaping/yard work
Your donation of time and talent will help survivors of intimate partner abuse grow strong knowing so many in the community care, but we promise it'll benefit you, too.
Studies find that people who volunteer are happier than those who don't. In fact, a report published by Harvard Health Publications found that an adult who volunteers for at least an hour a month is 7% happier than an adult who doesn't. This article from Helpguide.org lists dozens of other benefits from volunteering.
If you or a group of your friends, family, or co-workers can spare some time to help our mission, please complete our volunteer application and contact Diane at 859-233-0657 to discuss your interest.
We look forward to seeing you soon.
This post is part of our 17 Days/17 Ways campaign during Domestic Violence Awareness Month.