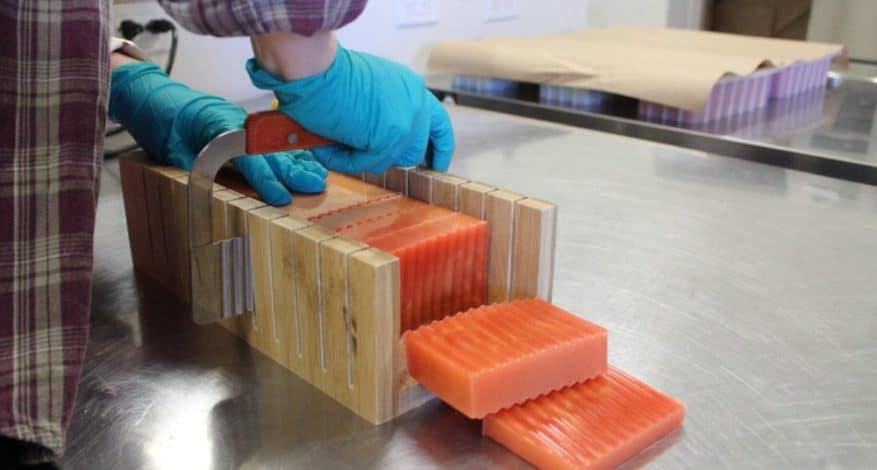 Blog
New Monthly Handmade By Survivors Soap Club
Our new monthly Soap Club subscription makes a wonderful holiday gift for someone special!
Q: What makes the new Soap Club special?
A: Subscribers will receive a monthly bar of Handmade by Survivors soap, and each month's soap will be different. Subscriptions are available for 3, 6, or 12 months, and every month's soap ships for free. Staff and survivors on our handmade team are developing new soaps and even testing shampoo and lotion bars. We're looking forward to sharing these new formulas with club members first.
Q: What will each month's shipment include?
A: You'll receive a small padded envelope in the mail. Inside you'll find that month's bar of soap, note card with details about the fragrance and ingredients, and a reminder about how many months remain in your subscription. All this will be packaged in a cute organza bag that can be reused to store jewelry or other little trinkets, or even filled with dried flowers to make little sachet packets.
Q: Will the first month's soap arrive in time for the holidays?
A: If your subscription order is received by Friday, December 20 at 12 noon EST, the first month's soap will be shipped to arrive before December 25. Future month's soaps will ship the first Monday after the 15th of each month.
Q: Can I purchase a subscription as a gift for someone?
A: Absolutely. If you're purchasing the subscription as a gift for someone, just let us know during the online checkout process. Use your address for billing, and the gift recipient's address for shipping. There's also a space to provide a short note for the gift recipient, and we'll hand write your message on a card to be included with the recipient's first soap shipment.
Q: Can I renew my subscription after the last month?
A: Yes, we'll send you an email the month before your subscription ends with a link to renew.
Q: How does my Soap Club subscription benefit services for survivors of intimate partner abuse?
A. All proceeds from the sales of Handmade by Survivors products are reinvested in the effort. Our farm-based programming supports survivors as they establish safety and heal from the physical and emotional wounds of abuse. Making products has a special connection to our mission. The process provides collaborative work experience for survivors, while also generating resources for our organization. Every bar of soap is made in our commercial kitchen on the backside of the farm property that surrounds our emergency shelter.
Q: Anything else?
A. Subscription gifts have become really popular this year. I think it's probably because it's so much fun to come home, check the mail, and find a gift there waiting for you. And every bar of soap we make is Kentucky Proud.