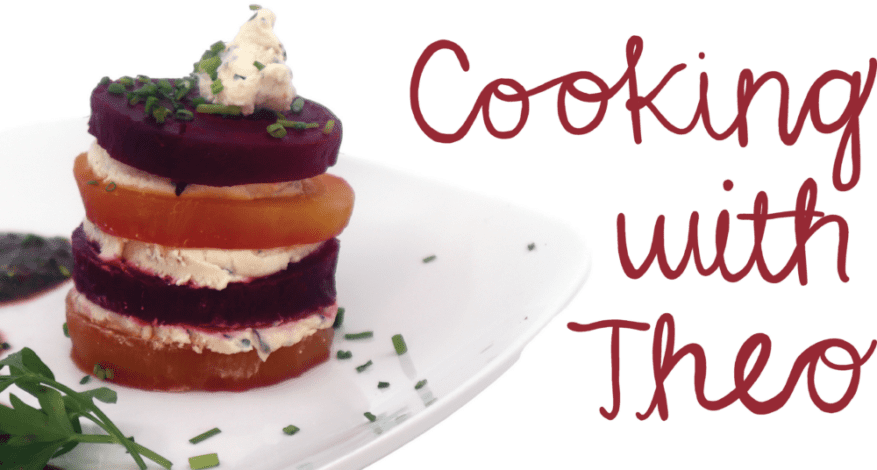 Blog
Cooking with Theo – Beet Napoleons
Beet and Goat Cheese Napoleons
with spicy mint chimichurri
Like in any home, the kitchen at shelter tends to be a gathering spot for adults and children. Survivors often prepare meals alongside staff, many times sharing recipes from their family traditions. Regular groups and workshops explore connections to food. Topics range from budgeting to self-image.
Bushels of carrots, sweet potatoes, winter squash, and herbs from the farm make for many delicious autumn meals. Chef Theo, an advocate with a focus on food and nutrition at the shelter, makes sure the harvest is put to good use. Healthy eating especially matters while healing the physical and emotional wounds of abuse. This dish is a favorite of residents and staff, and we hope you'll like it, too.
Ingredients
6 large beets

11 oz goat cheese

4 tsp chives (minced)

2 tsp fresh rosemary (minced)

2 tsp fresh thyme (minced)

4 Tbsp olive oil

2 Tbsp honey
Napoleons
Preheat oven to 350 degrees.

Cover beets in olive oil and wrap

in aluminum foil.

Bake 1 hour until a fork is easily

inserted into beets.

Peel the beets and cut into ¼"

slabs, then use a cookie

cutter or drinking glass to cut into

circles.

Mix herbs, honey, and goat

cheese until combined.

Put dollops of goat cheese

between the slices of beets.

Press beets down and using a

flat edge of a knife, scrape off the

excess goat cheese.
Chimichurri garnish
2 cloves of garlic

1 c packed fresh parsley

1 c packed fresh mint

2 Tbsp apple cider vinegar

½ Tbsp kosher salt

½ Tbsp sambal

6 Tbsp extra virgin olive oil

2 Tbsp honey
Combine all ingredients in a food processor and pulse until finely minced. Drizzle on plates around the napoleons.