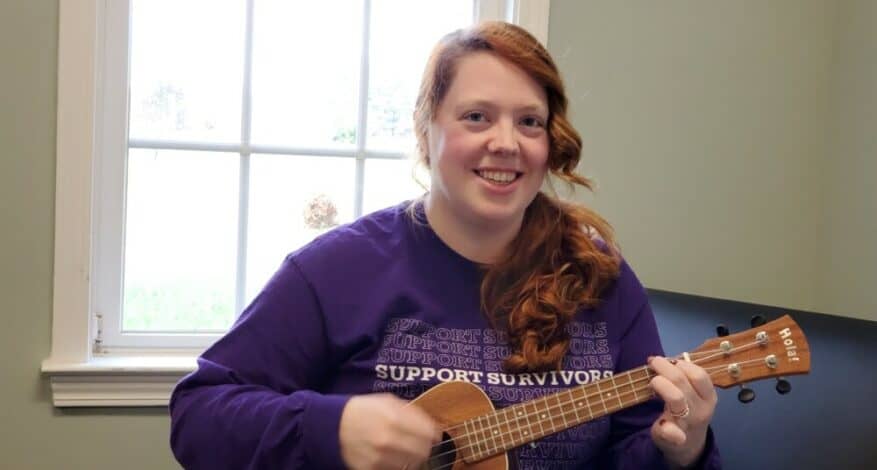 2022 annual report
Healing through Music
Sometimes you'll hear empowered singing and

song playing

echo down the halls of our emergency shelter. 
Healing through music is helpful for many people who have experienced trauma. Advocate Morgan hosts weekly ukulele sessions for survivors at shelter called, "Uke Can Do It." It provides a safe space for survivors to express, process, and take back their power.
Morgan's Background
Morgan has always loved music and participated in choir from 4th grade through college at Morehead State. She was even a part of the choir that won the 2014 Mayo International Choral Festival in Ireland! 
While Morgan was working towards a music therapy degree at UK, she had a family violence class where Diane, our associate director, spoke. The talk really stuck with her and she switched her degree to a masters in social work.  
Her 2020 practicum was here at the shelter and she was hired as an advocate after she finished school. Morgan recently took a new position as the Children's Advocate but is excited to keep doing the ukulele class for adults at shelter.  
Uke Can Do It
Morgan enjoys picking out the songs she teaches to survivors. She looks at not only the song's impact but also the message of the artist. In a recent class, the song learned was Elton John's I'm Still Standing. Morgan and her mom recently went to the Elton John concert and she was inspired. 
At the end of each session, she saves time for lyric analysis.  
"Don't you know I'm still standing better than I ever did?
Looking like a true survivor, feeling like a little kid
And I'm still standing after all this time
Picking up the pieces of my life without you on my mind"

The prompt to get a conversation started was, "For the people in your life who doubted you, what would you say to them?" 
Morgan says residents leave her sessions with a feeling of accomplishment. They learn so many things at once – chords, finger placements, reading music. She reminds them how much they accomplished in an hour, think of what you can do with a whole day! 
She also makes sure survivors know they don't have to play. They can just listen and join in on the conversation if they want. Morgan often brings in her drums, tambourines, and shakers for those who aren't yet comfortable learning a tune on the ukulele.