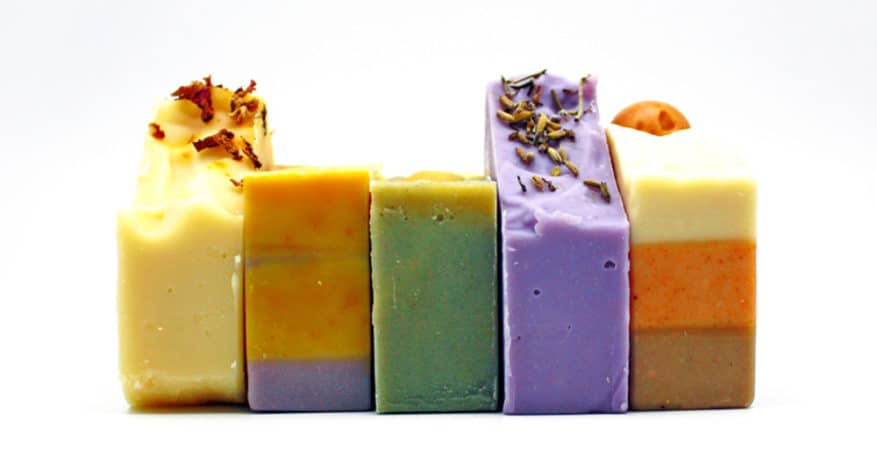 Blog
Handmade by Survivors: Cold Process Soap Making
Your purchase of our Handmade by Survivors products will help victims of intimate partner violence as they establish safety, heal from the physical and emotional wounds of abuse, and grow strong as survivors.
Five of our new soaps we are launching this season are cold processed, so we thought it'd be great to share with y'all some of the benefits that come with this process. Cold processed soaps are considered one of the most traditional forms of soap making. Due to not using high temperatures to cure, this process is better for more natural and raw ingredients. Cold processed soaps are also best for optimal moisturization and allow us to be a bit more creative with the soap aesthetic and our shaping techniques.  
The soaps made a lot of difference. They're all different and all beautiful.It doesn't seem like any two are the same. And there's a lot like the survivors, women and men of domestic violence. We all are similar in some kind of form, but we all have our differences to be celebrated.. – Jewell
5 Benefits of Cold Process Soap:
1. The Creamy Feel
Cold process soap made with all-natural ingredients like plant oils and butters creates a creamy lather for deep moisturization. Unlike other soap types, cold process versions penetrate deep into into the skin to help minimize dry itchy skin.
2. Powerfully Natural
The benefits of natural soap making ingredients like coconut oil, shea butter and olive oil can be lost through the heating process in hot process soap techniques; the cold process method ensures these natural ingredients are better preserved.
3. Intensive Scent
Cold process soaps are often fragranced with natural essential oils, like lavender and jasmine, or fragrance oils like chocolate or apple. Because cold process soap takes a number of weeks to fully cure, the scent intensifies over time.
4. Luxurious Lather
Unlike hot process soap, alternatives made through the cold process method can be skilfully whipped for the lightest touch, even floating on water! Cold process soap has the ability to create incredible lather to allow a truly luxurious bathing sensation.
5. Creatively Colorful
Cold process soap making techniques include a level of artistry, with many soaps decorated with swirls, layers of color and all sorts of interesting designs. Some are mixed with natural ingredients for texture while others have a top layer of herbs for an artistic final touch.
Source: soap.club