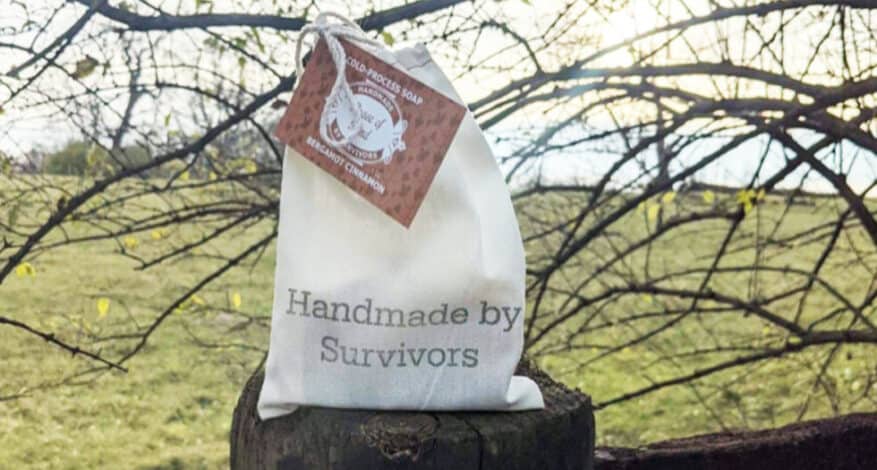 Blog
Handmade by Survivors Product Reflections 💜
"My smiles are so much brighter
.
 

I have found a way to use my skills in something I so much enjoy doing!"
The following reflections were written by survivors who have helped make our Handmade by Survivors products. They've given us permission to share these stories with you. 
By D
I really enjoyed this opportunity to learn how to make candles, soap, and bath salts! It gave me a chance to bond with some of my fellow survivors in such a way that was very valuable to me both spiritually and humanly! It helped me tremendously. Not only did I make life-long bonds, I also had fun doing it! It seems like my 8 weeks flew by. I really, truly hate to see it come to an end. 
I so believe in GreenHouse17 and all the products we made. I know they were all made with love and careful thought and planning. They are a proud group of women who have seen some trauma in our lives! I looked forward to each day as to what we were gonna make! I loved it all, except wiping off the bottoms of the candles! 😊
I surely hope the next crew gets as much enjoyment out of it as I did! I enjoyed everything about it! It relaxed me, we laughed, joked, played, ate ice cream & cookies, listened to the radio, & also drank numerous pots of coffee! I wouldn't change a thing—Loved it all! 
By A
My smiles are so much brighter, I have found a way to use my skills in something I so much enjoy doing! Making soap and doing different things with my new family that I know God has blessed me to have in my life is wonderful. I find it's very easy to talk with the ladies I work with. 
To sit back and see what I'm able to do with the things I have made is so awesome, plus the smiles I receive when others see it. I have come to see that I'm able to do so many different things and will be able to put on my resume – like doing stock inventory, as well as learning ways to make wonderful handmade stuff.  
I never even thought about what flowers could do to make oils, soap, candles, lip balm… so many different colors and so many different smells. It's good for me because I don't open up – or should I say I used to not! 😊
But the fear of not being good enough or not being accepted gets less and less. I smile more and I look forward to coming and hanging out with everyone.  
I know whoever purchases our products will enjoy them as much as I'm liking being a part of making them. 
By R
I didn't realize how important it could be in one's life when it comes to going about the things you do – working, helping others, or just hanging out. How we do it can be helpful in one's recovery for the trauma. I have endured so many years.  
In this I have begun to learn how to pick up a new skill, spent sober & clean fun time with others, laughed, and enjoyed the wonderful world of crafting. I never realized that the things I've taken for granted in my everyday life could be used to help the body. Plus, it smells great.  
I wish I could have started earlier, but I feel very blessed to be given a chance to join in and learn more. I look forward to learning how to make other things and seeing how this will benefit GreenHouse17.  
Not only has doing this opened a new door, but it also has given me the pleasure of wanting to write how I feel about things down on paper.