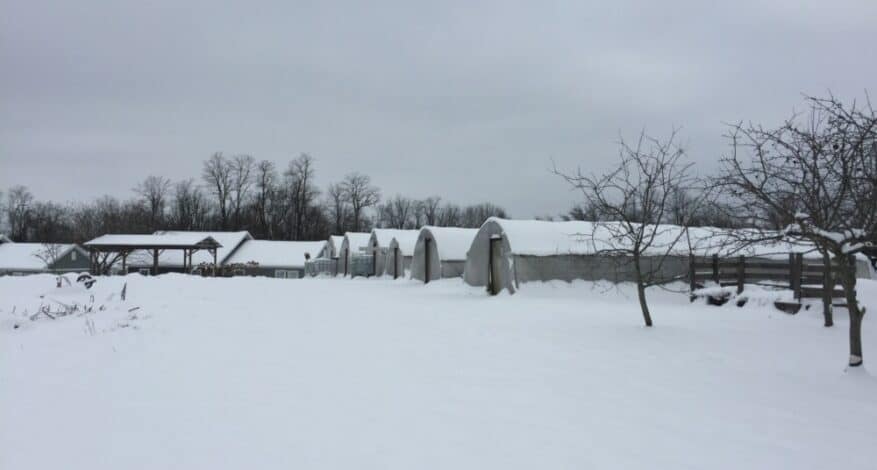 Blog
Winter on the Farm
Many of the pictures you see of our farm are filled with blooming flowers in the spring and summer months, but have you wondered what goes on when the temperatures start dropping? Winter on the farm is beautiful and busy! 
Production on the farm stopped at the end of October 2021. The farm team – Christina and Hattie, along with some volunteers – cleared out all of the annual flower beds. They physically removed every stem by hand (!) and mowed the beds down. They also ordered all the flower seeds, vegetable seeds, compost, and tools needed for this upcoming season.    
At the end of the growing season, cover crop was applied to help restore soil health in beds that had been worked throughout the year. Newly-formed beds were covered with landscape fabric to kill grass and weeds and ensure that the soil is protected from erosion and retains carbon.  
In November, they dug up the dahlias to store in crates and save until winter is over. They look like sweet potatoes!
They also planted bulbs! Anemone and ranunculus, two spring favorites, were planted both in the field and in one of the high tunnels. Garlic was planted, too, and covered with straw for a big harvest in July.  
The high tunnels were cleaned out and repaired, replacing some of the old plastic siding.
This month farm staff seeded 14 trays – including yarrow, snapdragons, mountain mint, bupleurum, statice, rudbeckia, and dianthus.
The main focus now is planning and mapping the farm to figure out where everything will be planted.