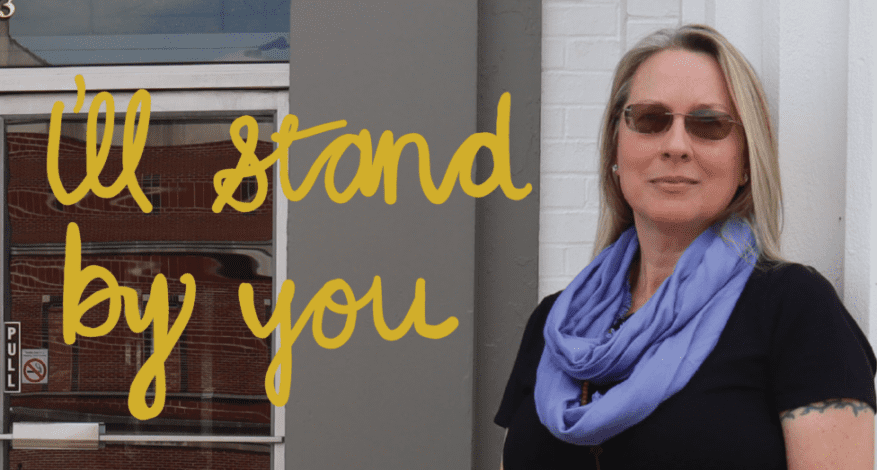 Blog
I'll Stand by You – Legal Advocates
"When in court I can't act as your
attorney, but I'm here for you."
Survivors of intimate partner abuse often need to navigate the legal system for longer-term orders of protection and matters related to safety, custody, and property. This is where legal advocates come in. While the advocate's role is to restore agency and explain processes, most importantly they stand beside survivors during one of the scariest days of the healing journey.
For many survivors, the court hearing will be the first time they see the abuser since escaping.
Morgan remembers her day in court like it was yesterday. "I instinctively look left, right, and there he is, and he's got this look on his face that just sent a chill up my spine."
Stephanie Love, a legal advocate serving survivors in Clark and Powell counties, says, "When in court I can't act as your attorney, but I'm here for you. I can make sure you have what you need. I can nudge you to remember something. I can act as an extra barrier between you and the abuser."
Advocates make sure survivors have a plan for their physical and emotional safety after court. They also provide connections to our support groups and local resources for food, clothing, and other needs.
"We get the survivor in touch with their community, so they aren't just relying on us," says Stephanie."You want to have other relationships in your life. If you've just got the one relationship, how healthy are you as an individual? It's the same with survivors."
Legal advocacy and support services are made possible with federal grant funding from the Victims of Crime Act (VOCA), non-taxpayer funding generated by fines paid by federal criminals. Violence Against Women Act (VAWA) funding also provides survivors with no-cost attorney services and representation for especially difficult cases. The Kentucky Justice and Public Safety Cabinet administers both funding sources.
YOU DESERVE TO BE SUPPORTED.
Our 24-hour crisis hotline is answered every day of the year. You will speak to a compassionate Certified Domestic Violence Advocate who wants to support your specific needs.
Together, we can develop a safety plan that meets the specific needs of you and your children. Find emergency shelter with us or a partner shelter. Make plans for one of our legal advocates to accompany you to upcoming court appointments. Share information about nearby support groups.
You might not be ready to leave or want to know more to support a friend. That's ok. We are here to listen, too. Please call us if you or someone you know is being harmed.