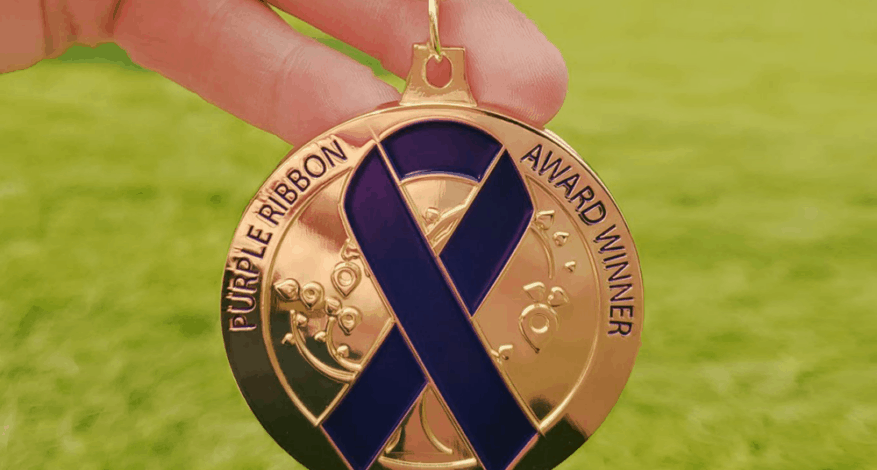 Blog
Purple Ribbon Award for Program of the Year
We have received the Purple Ribbon Award for Program of the Year by Domesticshelters.org. A $10,000 grant to support services for survivors accompanies this national honor.
Theresa's Fund, DomesticShelters.org and experts in the field launched the Purple Ribbon Awards, the first comprehensive awards program honoring shelters, programs, volunteers, and survivors committed to ending intimate partner abuse.
"We all know it's not easy work. But helping victims, survivors and their families and the relentless pursuit to end domestic violence is absolutely fulfilling and necessary work." – Award organizers
Gold medallions were awarded to notable nominees across 28 categories earlier this year. GreenHouse17 also was recognized for Most Innovative Service and Best Annual/Impact Report.
Grant Announcement
More than 650 people from 58 states/provinces and 10 countries attended the awards celebration and announcement of grant winners on September 15. Filmmaker Angela Shelton served as the special guest host for the event. 
"It means so much to be honored by fellow advocates in the mission," remarked Darlene Thomas, our executive director, after learning of the grant award." She later reflected on the honor in an email to staff and members of our Board of Directors: "Folks from all over the country sent out a huge congratulations to you, your work, your vision and commitment to survivors."
Fellow Award Winners
We send our congratulations to these and other inspirational award winners:
SOS violence conjugale
Outstanding Awareness Campaign
Quebec, Canada
$7,500 Grant Recipient
G.R.O.W. Foundation
Survivor of the Year (Neisha Himes)
Chesapeake, VA
$5,000 Grant Recipient
Control Alt Delete
Most Innovative Service
Phoenix, AZ
$2,500 Grant Recipient
Laurens County Safe Home
Shelter Turnaround of the Year
Clinton, SC
$2,500 Grant Recipient
Center of Hope
Shelter Employee of the Year (Rachel Enriquez)
Columbia, TN
$2,500 Grant Recipient
About the organizers
DomesticShelters.org was launched in 2014 by Theresa's Fund, an Arizona-based organization that has been deeply committed and involved in preventing violence against women since 1992. The website has become one of the fastest-growing websites on the topic of domestic violence.