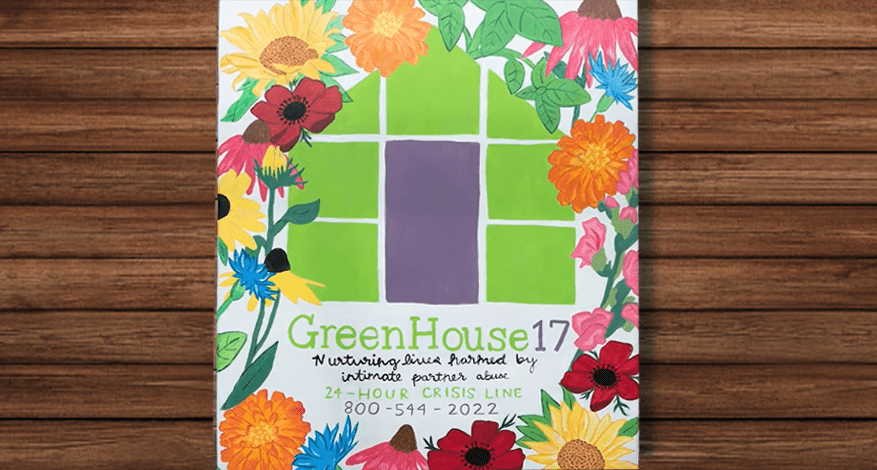 Blog
DV8 Kitchen Table Art Contest
We are excited to be participating in the Table Art Contest at DV8 Kitchen on Broadway! Your vote for our table could help us win up to $1500 to support services for survivors.
Eleven central Kentucky nonprofit organizations have partnered with local artists to create art directly on dining room tables at DV8 Kitchen on Broadway in Lexington. Videos from each participating organization are posted on social media, and every "like" on each video counts as a vote for that table.
Kristin Carpenter, an artist on our staff, imagined and painted the beautiful table featuring our mission. She and Reena Martin, our Community Engagement Manager, were interviewed about the meaning behind our table's design.
Follow this link to the DV8 Facebook Page to like our vido and cast your vote for our table.
While you're there, be sure to check out other videos featuring the tables and missions of these amazing sobriety organizations in the nonprofit community:
Hope Center / Anonymous
NAMI / Julie Joseph
Chrysalis House / Destinee Austin
Voices of Hope / Yolanda Kennison
KORE / Dawna Scripps
Natalie's Sisters / Landrie Nickell
Shepherd's House / Michael Harper
OWL / Jennifer Bacon
Grin Grant / Melody Jackson
New Vista / Keaton Young
Winners of the contest will be announced during a special event on April 26 from 5:30 – 8:30 pm at the DV8 Kitchen Broadway location. The restaurant will be open to the public, offering its full menu for dinner and live music. The event is supported by CHI Saint Joseph Health, Truist and LexArts.